Iran's VP Rahimi in Beirut on official visit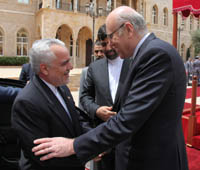 Iran's First Vice-President Mohammad Reza Rahimi arrived here Wednesday for an official visit to Lebanon to co-chair Iranian-Lebanese joint committee meetings.
Minister of Foreign Affairs Adnan Mansour and Iranian Ambassador to Lebanon Ghadanfar Roken Abadi received Rahimi at Beirut's Rafik Hariri International Airport, National news Agency reported
During his stay here, the Iranian official is also expected to meet Lebanese leaders on several issues of
mutual interest, according to local media.
He has already met with Prime Minister Nagib Mikati at the Grand Serail.
His visit coincided with that of U.S. Assistant Secretary of State for Near Eastern Affairs Jeffrey Feltman and US Senator Joe Lieberman who arrived in Beirut on Tuesday evening on an official visit to Lebanon.
The current Lebanese cabinet is dominated by the Iranian and Syrian backed Hezbollah militant group.