Sen. Lieberman urged Lebanon to help Syrian opposition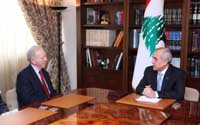 U.S. Senator Joseph Lieberman urged Lebanon on Wednesday to help the Syrian opposition and do more for refugees fleeing the violence in their home country while voicing understanding of Lebanon's dissociation policy toward events in Syria.
Lieberman ( CT Ind), who who arrived in Lebanon on Tuesday from Saudi Arabia at the head of delegation, was flown by helicopter early Wednesday to the north Akkar town of Andaqit to inspect the Lebanon-Syria border crossing of Bqayaa in Wadi Khaled. During the two-hour tour, he met with several displaced Syrian families at the residence of the former municipal chief of al-Moqaibleh in the area of Bqayaa.
A statement released by the US embassy said that Senator Lieberman , a ranking member of the Senate Armed Services Committee completed his visit to Lebanon on Wednesday as part of a tour of the Middle East region.
During his visit , Lieberman met with high-ranking Lebanese officials, including President Michel Suleiman, Prime Minister Najib Mikati and Progressive Socialist Party leader MP Walid Jumblatt, and discussed bilateral relations as well as the situation in Syria, the statement added.
His visit coincided with that of U.S. Assistant Secretary of State for Near Eastern Affairs Jeffrey Feltman, who arrived in Lebanon Tuesday from London. Jumblatt hosted a dinner in their honor on Tuesday at his residence in Clemenceau, Beirut in the presence of , U.S. Ambassador to Lebanon Maura Connelly, Cabinet ministers Ghazi Aridi, Wael Abu Faour and Alaeddine Terro, as well as PSP deputy foreign affairs official Doreid Yaghi and Jumblatt's son, Taymour.
Last month Lieberman and US Senator John McCain called for arming the Syrian opposition during a visit to a Syrian refugee camp in Turkey