Syria's envoy accuses Arabs of being behind seized arms ship
Syrian Ambassador to Lebanon Ali Abdul Karim Ali Wednesday accused Arab political and security leaders of being behind the arms ship seized in Lebanon last week, National News Agency reported.
Ali said after meeting with Lebanese Foreign Affairs Minister Adnan Mansour that "the shipping containers that contained arms were destined to the Syrian opposition and their accomplices … the political and security leadership in Qatar, Saudi Arabia and other countries are behind the incidents in Syria, Lebanon and the region."
The vessel Lutfallah II that carries the flag of Sierra Leone was intercepted by the Lebanese navy off the northern coast last Friday and towed to the port of Selaata and then to the navy base in the Lebanese capital of Beirut.
The eleven-member crew, eight Syrians, two Egyptians and an Indian, and the ship's agent were arrested.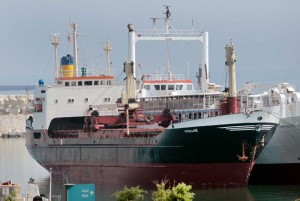 On the interception of Lutfallah II, Mansour said it was an important accomplishment. Investigations revealed that no Lebanese national was involved in the case, he stressed
The Syrian government has repeatedly claimed that weapons are being smuggled from Lebanon to arm the rebels of the Free Syrian Army.