Google Sued for Suggesting Murdoch, Others Are Jewish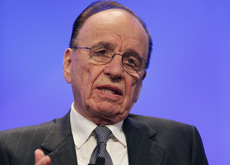 Google has been hit with a lawsuit in France for suggesting that certain celebrities, including News Corp. chairman Rupert Murdoch and Mad Men star Jon Hamm, are "Jewish."
Since 2008, Google has been attempting to anticipate what its users will type into search boxes with its "Suggest" feature, but lawyers for SOS Racisme, a French organization that fights discrimination, say that by connecting persons with an often persecuted religious minority, the web giant is overseeing "the creation of what is probably the biggest Jewish file in history."
According to local press reports, there's a hearing scheduled for Wednesday in the lawsuit. The plaintiff is contending that Google's users are confronted daily with unsolicited and systematic associations between famous people and their Jewishness.
This isn't the first time that Google has gotten in trouble in France for the way it auto-completes what users type into search boxes.
In 2009, Google was hit with two verdicts in cases that questioned whether companies were defamed when it was "suggested" these companies were associated with the French word for "scam."
One of those companies emerged victorious when a judge declared that no algorithm could justify the prejudice caused by Google. The other company got a judge to declare that Google could be found liable because the company had informed Google of the situation, meaning Google had no safe harbor from liability. The judges, though, were split on whether to order changes. The judge in the latter case cited free speech.
Google has a page that explains its policies on its autocomplete feature. The company notes some instances where no predicted searches appear for a particular word or topic. One such instance is when "The search term violates our autocomplete policies." Google says it excludes "a narrow class of search queries related to pornography, violence, hate speech and copyright infringement."
The Jewish association isn't merely reserved to France, by the way. According to our review, on the U.S. site, Rupert Murdoch is suggested with "Twitter," "scandal" and, yes, "Jewish."
Hollywood Reporter