Aoun slams Jumblatt for rejecting proportional representation law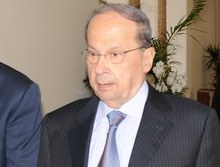 Free Patriotic Movement leader MP Michel Aoun on Monday slammed Progressive Socialist Party leader MP Walid Jumblatt for rejecting the proposed electoral law which is based on proportional representation.
"I support a proportional representation law and turning Lebanon into a single electorate district and those who have another point of view must voice it in parliament," Aoun said after the weekly meeting of the Change and Reform parliamentary bloc in Rabiyeh
Aoun Criticized Jumblatt without mentioning him by name:
"We are not obliged to boost his political clout", adding "We might forget about the thefts … but we will not tolerate the theft of our freedom," he said
Hezbollah and Aoun have been calling for adoption of the proposed electoral law that is based on proportional representation. This law according to analysts could guarantee a majority for Hezbollah and its allies in Lebanon.
In his weekly column in PSP's Al-Anbaa newspaper to be published Tuesday, Jumblatt reiterated his opposition to the proposed electoral law that calls for proportional representation and said that it could revive the era of the Syrian tutelage over Lebanon which "witnessed many political assassinations that targeted national symbols, statesmen, journalists and thinkers as part of the policy of exclusion."
Aoun also attacked the March 14 opposition:
"The parliamentary minority is practicing obstruction in collusion with some of the executive authority, and we will not remain silent over this issue even if some people launched verbal attacks. " In reference to the expenses paid by the Hezbollah led cabinet which the March 14 opposition rejected and president Suleiman refused to sign.
Addressing the ongoing financial row, the FPM leader said: "The 'era of prostitution' is over and we have embarked on forming a panel together with some MPs for the sake of financial accountability from 1990 until now."
"The objective is improving administration and the financial situation, but some parliamentary committees have started obstructing the step," he added.
"We are ready to go to court … and should we be convicted in a single case, we pledge that we would quit politics. Where are your evidences?" he said, addressing his movement's political rivals.
His comment comes after Former Lebanese PM and current Future Movement parliamentary bloc leader MP Fouad Siniora called last week for forming a parliamentary investigation committee "to audit the financial accounts for successive cabinets since 1988″ and not since 1990 only.
Aoun served as the acting prime minister From September 22 , 1988 to October 13, 1990 when he was defeated by the Syrian army. Aoun then went into exile in France and returned to Lebanon days after the Syrian army withdrew from Lebanon. Aoun was accused of robbing the Lebanese treasury while he was the acting PM.
Aoun also attacked the upcoming visit to Lebanon by Jeffrey Feltman, assistant U.S. secretary of state for near eastern affairs and said: "He is coming to support the corruption he used to support when he was (an ambassador) in Lebanon."