Jumblatt: Proportionality electoral law could revive Syrian tutelage over Lebanon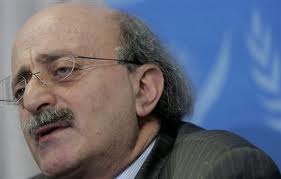 Progressive Socialist Party leader MP Walid Jumblatt reiterated his opposition to the proposed electoral law that calls for proportional representation and said that it could revive the era of the Syrian tutelage over Lebanon which "witnessed many political assassinations that targeted national symbols, statesmen, journalists and thinkers as part of the policy of exclusion."
"It is impossible to return to the [era when the Syrian forces were present in Lebanon] and any attempt to do so through a [new] electoral law will be rejected by the Lebanese people."
He accused the Lebanese political factions that are calling for adopting the proportional system of representation in the 2013 parliamentary elections of aiming at excluding other political parties and not for the sake of political reform.
"The stances of some political groups [that are calling for proportionality] reveal that they are doing so only because they seek to exclude other factions from the political realm and not for the purpose of achieving political reform," Jumblatt said in his weekly column in PSP's Al-Anbaa newspaper to be published Tuesday.
Although the PSP leader voiced his objections to proportional representation, he said that embracing such a system of representation "was demanded by the Lebanese National Movement and left-wing party led by his father the late Kamal Jumblatt during the Lebanese civil war , but the circumstances today have changed in Lebanon"
"[I] wish that Lebanon was enjoying the ideal democracy [just like the one prevalent] in Sweden, Switzerland and Denmark, but [there are some groups] who forget that the [political] schisms… [in Lebanon] are impeding the success of the proportional system of representation, which will deepen the [political] rupture."
Lebanese parties are currently debating the electoral law for the upcoming 2013 parliamentary elections. Some parties, including the PSP, rejected the proposed law and called for adopting the 2009 electoral law, which is a modified version the 1960 winner take all law.
Syria pulled out its troops from Lebanon by the end of April 2005 following the assassination of former Prime Minister Rafik Hariri.
Hezbollah and its allies including MP Michel Aoun are calling for adoption of the proposed electoral law that is based on proportional representation. This law according to analysts could guarantee a majority for Hezbollah and its allies in Lebanon.
Defends Suleiman
Jumblatt also commented on criticisms of President Michel Suleiman for being "a consensual president."
"Is [the president being attacked] because he rejected [efforts to] hand over some Syrian activists and refugees [in Lebanon to the Syrian regime], or in order to prevent [Suleiman] from speaking his mind on the issue of administrative and judicial appointments?"
His comment comes after Free patriotic Movement leader MP Michel Aoun said Saturday that the future Lebanese president should head a "parliamentary bloc with ministers representing him."
Aoun also criticized the idea of a consensual Lebanese president.
"Experience does not encourage [us] to accept a consensual president again."
Aoun's remarks were made on Twitter and Facebook social networks.
"At least, a consensual president does not beg for the presidency;
President Michel Suleiman on Saturday slammed Aoun over the issue of consensual Lebanese president.
"At least, a consensual president does not beg for the presidency; on the contrary everyone asks him to accept it," Suleiman said on his social networking site Facebook page.