Syrian critics see election as a sham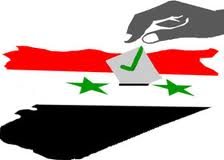 A spotlight shone through the early evening Damascus sky, heralding the campaign launch of Mohammed Nabil al-Nouri, independent parliamentary candidate – and loyal supporter of Bashar al-Assad, the president.
In his thinly populated election tent, Mr Nouri said Syria's uprising should be seen as a family crisis that had erupted only because the leader and patriarch had not been told by the mother – or government – of the problems faced by his children, the people.
"The father loves his children and he gives his life to his children," explained Mr Nouri, a businessmen who said he had never previously been involved in politics. "And our mother is not a bad lady – but she needs some advice from her family to change the way she takes care of her children."
Mr Nouri's analysis – and his claim of independence from the leader he wholeheartedly backs – capture the tone of a poll next week that the regime is casting as an important step towards political reform but critics say is anything but.
At a time when the security forces are accused of extending a crackdown estimated to have killed more than 9,000, opponents of Mr Assad and some independent observers see the polls as at best an irrelevance and at worst a hollow sham aimed at reinforcing regime control rather than diluting it.
"It's the worst thing," said one professional woman from the Damascus suburbs, which have seen some of the worst violence. "You cannot have an election during a war."
The May 7 election is the latest event in a process of political change announced by Mr Assad in response to a more than year-long uprising that – in the face of a brutal assault by his forces – transformed from a peaceful demand for reform into an increasingly militarised campaign to topple him.
The regime held a referendum on a new constitution in February, claiming 89 per cent of the vote in a poll that opponents condemned as fraudulently conducted and grotesque, given the government shelling at the time of the central city of Homs and other opposition areas.
Main streets in Damascus are now covered with candidates' posters whose number and diversity would at first glance suggest a vigorous democratic culture and hotly contested poll. But critics say the rapid emergence of so many willing prospective MPs from a repressive dictatorship with no history of political activism is just one of many clumsy signs that the vote is orchestrated by the regime to entrench its power.
"All these photos of people we have never seen before," drily noted one young Damascene professional. "It's funny: you see a picture of an old man saying: 'Let the youth build Syria.'"
Candidates' literature is often striking for how it ignores or makes only oblique references to the
existential crisis facing Syria. While the first campaign demand of Belal Yaseen Soulayten, a journalist from the coastal town of Latakia, is that citizens should be more involved in decision making, his second is for better e-government services.
Some Syrians are also suspicious of the way that campaign materials avoid mentioning the Ba'ath party, almost the sole source of political power and patronage during the Assad dynasty's four-decade rule. "This is the amazing thing," reflected one businessman. "There is no sign saying: 'Elect me. I am from the Ba'ath party.'"
Some regime opponents are boycotting the elections on principle, including Louay Hussein, who was jailed for seven years under Hafez al-Assad, Mr Assad's father and predecessor. Mr Hussain said the regime was using the poll as a way to pre-empt and avoid "possible future negotiations with the opposition forces".
Government officials deny the elections are stage-managed by the regime. One expressed disappointment that opposition members were being too "timid" in their approach.
Back at Mr Nouri's tent, the turnout for his first night on the stump was modest – about 20 men – as he continued to outline his vision of how Syria's protesters were like children who, seeing their demands ignored by their parents, had gone off the rails into a world of drink, drugs and nightclubs.
Asked what he would say to Syrians who would prefer not to be viewed as children but as adults empowered to elect or unseat their rulers, Mr Nouri sidestepped the question and pointed instead to shortcomings of political systems in Gulf and western states that oppose Mr Assad.
"We will give lessons [to] the world in democracy," he pledged, a picture of Mr Assad staring from the tent wall above him. "We can solve our problems in our house."
Financial Times