Gemayel smells a rat, urges expats not to register to vote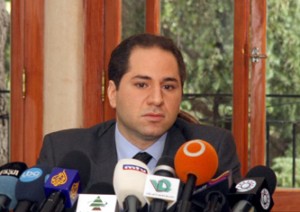 Phalange party bloc MP Sami Gemayel urged on Thursday the Lebanese expatriates not to register their names at Lebanese embassies in order to participate in the upcoming 2013 parliamentary elections "because we fear that there might be a game behind [the proposed logistics for expatriate voting]."
His statement comes after the cabinet on Wednesday approved the Foreign Ministry's proposal allowing Lebanese citizens living abroad to vote.
Foreign Affairs Minister Adnan Mansour said Wednesday during the cabinet meeting that only 4,900 out of millions of Lebanese living outside the country have registered to vote in the 2013 polls.
The Lebanese diaspora is estimated at 12 to more than 15 million people – three to four times the internal population of Lebanon itself which is estimated at 4 million. Brazil alone is the home for 6- 8 million Lebanese .
Gemayel told LBC television that "the proposed mechanism regarding expatriate voting completely differentiates between the way expatriates vote and the way local citizens do, because it forces expatriates to elect a specific list of MPs."
"We tell expatriates not to register [their names], because we are afraid that there be a game behind this." He stressed