Syrian wants to form 'government' in exile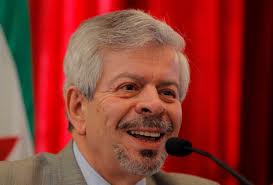 Syria's fractured opposition is showing further signs of cracking, even as international powers build the pressure on President Bashar Assad to end his regime's bloody repression of dissent.
Nofal Al-Dawalibi, the son of a former Syrian prime minister, announced in Paris on Thursday plans to create a shadow "government" in exile, saying he wants to help Syrian rebels and encourage international military intervention against Assad's forces.
His plan exposed the lack of unity around the Syrian National Council, which many countries consider the main opposition group. Some of the jockeying for notoriety also could be linked to hopes of gaining a position of power if Assad's regime becomes the latest to fall to the Arab Spring uprisings.
The latest public split in the opposition comes after the U.N. Security Council on Saturday unanimously approved a resolution allowing up to 300 observers to be sent to Syria to monitor a cease-fire plan put forth by special envoy Kofi Annan.
The international community has been generally divided over how to pressure Assad to stop a crackdown that has killed thousands over the past 13 months. With violence continuing, some doubt whether the Annan plan will hold.
Al-Dawalibi, who divides his time between Paris and Saudi Arabia, wants more muscular action from the international community, but offered little clarity about how he would draw in military intervention from abroad when few countries have advocated it.
At a news conference, Al-Dawalibi said his "government" would work to meet the immediate needs of the Syrian people: "military intervention, to be protected; air strikes; humanitarian (aid) corridors; air exclusion zones, and of course, humanitarian aid."
French diplomats say it's unclear what weight that such opposition groups based abroad — including in Paris — have inside Syria, where anti-Assad activists often operate alone. The Syrian National Council is still the opposition's main face, they say.
A spokesman for the council said it would have no comment on Al-Dawalibi's efforts.
Al-Dawalibi said his father, Maarouf, was the "last freely elected prime minister" in Syria, in 1961, but was later jailed and fled to Saudi Arabia two years later, where he became an adviser to the royal family.
Nofal Al-Dawalibi, who says he received master's degree in engineering from Stanford University in 1973, is believed to be little known inside Syria. He claimed that his movement has backing in some Persian Gulf and European countries, but for now, is funded through "our own pockets."
Asked by a reporter about whether his movement was playing into Assad's hands by exposing rifts within the opposition, al-Dawalibi replied: "What's the alternative? The Syrian National Council, or the Annan plan that is going nowhere?"
He said the Syrian National Council is insular and ineffective, with a "legislative" structure and too many links to the Muslim Brotherhood. His government would be the executive, he says, with 35 "governors" inside Syria and seven advisers abroad for issues such as defense, financial and legal affairs.
"Unfortunately it is impossible to unify the opposition in Syria," he said.
At the news conference, Al-Dawalibi's team showed videos of several alleged Syrian military commanders pledging allegiance to him. Al-Dawalibi sat next to Ahmad Alashqar, who introduced himself as an official with the Free Syrian Army who is based in the Netherlands. Alashqar provided a photocopy of an ID card of Col. Riyadh al-Asaad, the army's leader — suggesting it was proof of his support, too.
It was impossible to immediately verify the videos' authenticity.
Many opposition groups have strived to claim a connection to the Free Syrian Army, the Turkish-based umbrella group for armed opposition groups in Syria. Al-Dawalibi's group insisted the army itself has several variants.
At least three large groups and several smaller ones inhabit the disjointed galaxy of opposition movements, officials say — and keeping track of them is tricky even for diplomats.
A press officer for Al-Dawalibi, for example, in November also contacted reporters about a news conference by another Paris-based opposition group led by Abdul-Halim Khaddam, an exiled Syrian former vice president under Assad.
Al-Dawalibi's aides said the two movements were not connected, but could eventually work together for the sake of unity.
But Al-Dawalibi could have a difficult time gaining the allegiance of many in the opposition.
A representative of Syria's outlawed Muslim Brotherhood on Thursday said Al-Dawalibi "has very limited credibility."
"He has no grassroots," Molham Aldrobi, a senior official in the Syrian National Council told The Associated Press in Kosovo's capital, Pristina. "He had been invited to the SNC to participate. He walked away because he did not see himself getting a high-ranking position in the SNC. This activity that he is doing today I don't see it as a useful move from his side."
Still, Aldrobi brushed off concerns that the already divided opposition was on the brink of collapsing.
"This is of no concern," he insisted.
ctpost