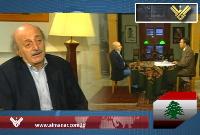 In an interview with Hezbollah's al-Manar television Progressive Socialist Party leader MP Walid Jumblat on Thursday reiterated his utter rejection of an electoral law based on the proportional representation system.
"I don't want any type of proportionality and that's it," Jumblatt said, before his scheduled meeting at his residence with the Khlails ; Speaker Nabih Berri's aide, Health Minister Ali Hassan Khalil, and Hezbollah chief Sayyed Hassan Nasrallah's aide, Hussein Khalil.
Speaker Berri according to local reports is trying to barter with Jumblatt by offering him a Druze-led Senate ( as outlined in the Taef accord ) against accepting the proposed electoral law that is based on proportional representation. But according analysts as far as Jumblatt is concerned ," a bird in hand is worth more than ten on a tree."
Jumblatt stressed to al Manar that any law based on proportionality would be aimed at slashing the size of his parliamentary bloc.
Commenting on the situation in Syria he said that Kofi Annan's ( International and Arab League ) peace plan for Syria has not worked out and has reached a dead end and concluded that "the only solution is (President Bashar) Assad's ouster."
This error message is only visible to WordPress admins
Error: No connected account.
Please go to the Instagram Feed settings page to connect an account.