Iraqi PM says Turkey is becoming an enemy state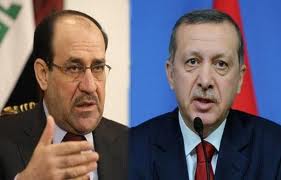 Iraqi Prime Minister Nouri al-Maliki has said Turkey is becoming an enemy state in the region in a sign of growing tensions between Turkey and Iraq.
Maliki's harshest remarks so far came at a time when Turkey was hosting two senior Iraqi politicians who are at odds with his government. Leader of the Kurdistan Regional Government (KRG) Massoud Barzani arrived in Turkey for a two-day visit on Thursday and Iraq's fugitive Vice President Tariq al-Hashemi is currently in İstanbul.
"The latest statements of (Turkish Prime Minister Recep Tayyip) Erdoğan are another return to the process of interfering in Iraqi internal affairs and it confirms that Mr. Erdoğan is still living the illusion of regional hegemony," Maliki said in a statement posted on his website, AFP news agency reported.
Maliki said it is regrettable that Erdoğan's statements have a sectarian dimension which he used to deny before but which have become clear, and are rejected by all Iraqis.
"Insisting on continuing these internal and regional policies will damage Turkey's interests and makes it a hostile state for all," Maliki said, AFP also reported.
Maliki and Erdoğan exchanged harsh accusations in previous months and ties between the two countries are seriously strained. Diverging positions in Syria and Turkey's support for Hashemi are main points dividing Ankara and Baghdad.
Erdoğan warned against the latest situation in Iraq in a press conference earlier this week and signaled a troubling trend in the war-torn country under the current prime minister. Erdoğan blames Maliki for excluding Sunnis from power structures.
Turkey/PKK
Turkish forces launched operations in the mountains of northern Iraq on Thursday following simultaneous attacks by Kurdish separatists in southeastern Turkey that killed at least 26 soldiers.
The Kurdistan Workers' Party (PKK), which has waged a decades-long separatist struggle against Ankara, has claimed responsibility for the attacks, which occurred late on Tuesday and early on Wednesday.
A security source said the attacks targeted police and military installations in several locations in Cukurca and Yuksekova in Hakkari province near the border with northern Iraq's semi-autonomous Kurdish region.
The Turkish army responded with an air-supported operation against the fighters in Iraq's northern Qandil mountains, with both airstrikes and soldiers on the ground employed.
Todayszaman/ al Jazeera