Blast rocks Syria's Mazzeh airbase in Damascus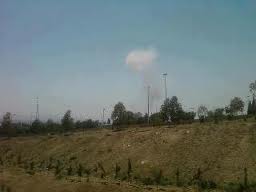 A huge explosion on Saturday rocked a Syrian military airport on the outskirts of the capital, the Syrian Observatory for Human Rights reported.
"A loud explosion was heard at the Mazzeh military airport in Damascus," the Britain-based monitoring group said. It provided no further details.
Activists however told AFP that the army blocked the road leading to the military airbase while snipers took positions on the rooftops of buildings in the area.
Sporadic clashes between government troops and army deserters have rocked Damascus in recent weeks, ahead of the ceasefire that went into effect on April 12.
Mazzeh, an upscale district which houses many government offices and embassies, is a Damascus neighbourhood that has been hit by violence.
The latest report comes as a team of United Nations observers monitoring the shaky ceasefire visited the central Syrian province of Homs on Saturday, according to the state news agency SANA.
Monitors say more than 200 people have been killed in Syria since the ceasefire to which the government and rebels committed themselves.
AFP