Protests sweep Syria amid shaky truce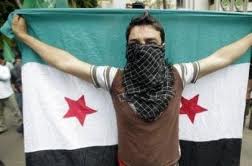 Thousands of Syrians took part in protests against President Bashar al-Assad's regime on Friday, testing a shaky U.N. ceasefire, as state media said 18 security personnel were killed in attacks.
As many as 45 people have been killed by Security forces across the country on Friday, Al Arabiya reported citing activists at the Syrian Local Coordination Committees (LCC).
The latest violence came as peace envoy Kofi Annan acknowledged the situation was "not good" and as rights monitors reported intense shelling of protest hubs.
"It's a very fragile ceasefire," Annan spokesman Ahmad Fawzi told reporters of the tenuous truce which went into effect on April 12.
A deadly blast took place in the southern region of Quneitra, near the demarcation line with Israel on the Golan Heights, killing 10 members of the security forces, state television said, blaming an "armed terrorist group."
Official news agency SANA said the bomb was detonated by remote control and targeted a bus transporting troops.
A similar bomb attack in Karak, in southern Deraa province, killed five soldiers, state media said, adding that three soldiers and three civilians were killed in separate incidents elsewhere.
Thousands took to the streets across the country after Muslim weekly prayers, the Syrian Observatory for Human Rights said, according to AFP.
Protests took place in Deraa, the Damascus region, in Homs and Hama in central Syria, Idlib in the northwest, Aleppo in the north, Deir al-Zor, northeast Syria, and in Latakia on the Mediterranean coast, it said.
"Protesters called for a collapse of the regime and the ouster of President Bashar al-Assad in spite of heavy security deployment and continued shelling, gunfire and arrests by government forces," the Britain-based watchdog said.
Heavy bombardment
The Britain-based Syrian Observatory for Human Rights said that the rebel Khaldiyeh district of Homs – Syria's third-largest city — was under heavy bombardment for another day.
Activists in the town of Qusayr, further north, also reported heavy bombardment. "Mortar and rocket fire did not stop all night and is continuing today," said Hadi Abdullah.
In Deraa, the LCC posted a video online showing the government forces deploying and carrying out a campaign of crackdown and arrests.
Meanwhile, an advance team of U.N. military observers resumed work bolstered by the signing on Thursday of a protocol governing their mission to monitor a six-point plan brokered by Annan.
U.N. chief Ban Ki-moon urged the Security Council to take "early action" to bolster the mission, while acknowledging that boosting its numbers to 300 was "not a decision without risk."
Opposition activists had called for a show of defiance against Assad's regime for the main weekly protests.
"We will win and Assad will be defeated," was the slogan on the Syrian Revolution 2011 Facebook Page, which has been a major engine of the 13-month uprising that monitors say has left more than 11,000 people dead.
Across the country, activists reported a massive security force presence, particularly outside mosques, the traditional starting point for marches and protests.
The head of the small observer advance team, Morocco's Colonel Ahmed Himmiche, said it would not be attending demonstrations on Friday for fear that "our presence is used for an escalation."
"Today, we have other tasks. We are going to meet civilians and representatives of organizations," Himmiche told AFP as his team prepared to leave their Damascus hotel.
The advance party has visited the Deraa region but has not so far been able to visit Homs, where rebel neighborhoods have come under repeated deadly bombardment, Ban said.
Damascus ally Moscow insisted that the ceasefire was generally holding despite violations and should be viewed as an achievement that was saving Syria from a broader civil war.
Humanitarian front
On the humanitarian front, a $180 million (140 million euros) draft plan for delivering aid for Syria's one million needy has been drawn up and is awaiting the green light from Damascus, the United Nations said on Friday.
A successful assessment mission has been carried out and donors are ready with their cash to provide food, medical and other supplies, said John Ging, director of operations for the U.N. Office for the Coordination of Humanitarian Affairs (OCHA).
"We are now in intense negotiations with our Syrian counterparts on that and we hope that from this forum today the sense of urgency will also result in success from those negotiations," Ging said.
"Now it's a question of implementing those plans. This is where we are needing to mobilize more effective engagement with the Syrians to get that plan fully up and running," Ging said, according to Reuters.
Ging was speaking to reporters after the Syrian Humanitarian Forum was held in Geneva to discuss the $180 million assistance plan for six months. The plan was drawn up after a joint assessment mission conducted with Syrian officials last month.
Syria's ambassador to the U.N. in Geneva, Faysal Khabbaz Hamoui, attended the closed-door talks along with representatives of donor countries and of the Organization of Islamic Cooperation.
U.N. agencies have been largely shut out of Syria, where the International Committee of the Red Cross (ICRC) is the only international body to deploy aid workers.
U.N. agencies have made some relief supplies available for distribution by the Syrian Arab Red Crescent.
Ging also said the U.N. World Food Program (WFP) aimed to double the number of people it was assisting in Syria this month to 200,000 from 100,000 in March.
Al Arabiya