MP Aswad admits that proportionality downsizes PSP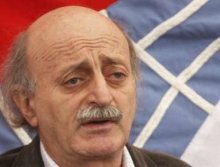 Free Patriotic Movement MP Ziad Aswad said on Friday that Progressive Socialist Party leader MP Walid Jumblatt did not want an electoral law based on proportional representation because this would downsize the number of his MPs and would bring his party back to its "normal size."
"Walid Jumblatt is in the minority [but] wants to [control] the majority," Aswad told OTV.
Jumblatt is not the only one opposing an electoral law based on proportionality.
In an interview with Al-Mustaqbal newspaper last weekend, Former Prime Minister Saad Hariri and leader of the Future Movement which has the largest parliamentary bloc ruled out any discussion on an electoral law based on proportional representation in the absence of a dialogue on Hezbollah's arms. He also said he would hold both President Michel Suleiman and Prime Minister Najib Mikati responsible for any attempt to "smuggle" proportional representation into the country's political system.
"No talk or discussion of proportional representation in the presence of arms. This should be well understood by the president and the prime minister," said Hariri in reference to Interior Minister Marwan Charbel's draft electoral law proposal based on proportional representation.
Hariri said that in principle, proportional representation would allow independent candidates and parties the chance to compete against established ones. "But we all know that there are regions in Lebanon locked up against democratic competition because of the presence of arms," Hariri said in reference to Hezbollah.
Discussion of a new electoral law has sparked a controversy among the country's rival politicians and sects for the past year.
In his interview, Hariri also said that the recent efforts by the government to approve Charbel's proposal are a result of an order by the Syrian regime of President Bashar Assad made to weaken the Future Movement and its allies.
"It is no longer a secret that orders from the head of the regime in Syria have been issued to leaders and officials in the Lebanese government to impose an electoral law aimed at breaking the Future Movement, its allies and everyone who stands in the face of the killing machine inside Syria and its tutelage over Lebanon," said Hariri.