Syrian FM: 250 U.N. observers "reasonable and Logical"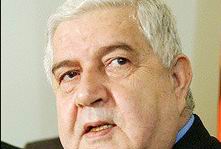 Syrian Foreign Minister Walid al-Moualem on Wednesday said a plan for 250 international observers was a "reasonable and logical" number to monitor a days-old ceasefire in the country, after the United Nations said it may need more troops and aircraft.
The truce has held in some parts of Syria since President Bashar al-Assad pledged to enforce it last week. But in strong opposition areas such as Homs, Hama, Idlib and Deraa the army continues to attack and battle rebels, using heavy weapons in violation of the pledge by Damascus to pull back.
Moualem, speaking through an English translator during a press briefing in Beijing, said he did not know why more observers would be needed, and said that the U.N. could use Syrian aircraft if needed.