UN observers in Syria to get 10 Vehicles via Lebanon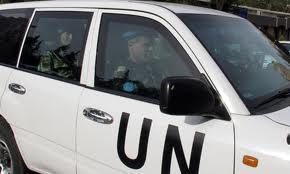 Ten vehicles arrived Wednesday at Rafik Hariri International Airport in Beirut which will be delivered to the team of U.N. observers overseeing Syria's peace plan
A private Italian jet carrying a Land Cruiser SUV , was the first to land at Rafik Hariri International Airport . It was followed by three other jets coming from the Czech Republic and carrying nine vehicles , National News Agency NNA reported.
"These vehicles will be transported to Syria, where they will be used by this team" of monitors, NNA reported
U.N. chief Ban Ki-moon was due to report to the Security Council later on Wednesday on progress made by the 6 member advance team which is to be expanded to 30 members in the coming days.
Approved under a U.N. Security Council resolution, the team is to be reinforced in the longer term with up to 250 international monitors, but this will require a new resolution.
Lebanese authorities have refused to allow U.N. observers to land in the defunct Qulaiat airport in the North to give them quick access to the Syrian province of Homs, An Nahar newspaper reported Wednesday.
The newspaper said the U.N. made the request given that the airport is at close proximity to Homs and could be used for the possible evacuation of casualties.
The Lebanese decision to refuse the international request came over fears that the Qulaiat airport could be used as a "humanitarian corridor" to aid those in need in Syria, which Lebanon had rejected as part of its policy in distancing itself from the Syrian crisis, An Nahar said.
Lebanon's political scene is split between supporters of Syrian President Bashar al-Assad's regime, led by Hezbollah and its March 8 allies, and March 14 which supports the Syrian people in their demands for freedom and democracy .
The current cabinet is dominated by Hezbollah