Suleiman calls Lebanese expatriates the 'oxygen' of Lebanon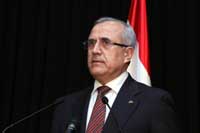 During a reception that was held in his honor in Sydney by the Lebanese-Australian community on Wednesday , President Michel Suleiman who is on an official visit urged those that were born in Australia to apply for Lebanese citizenship in order for them to qualify for participation in the Lebanese elections
He also urged those that were born in Lebanon to submit their names to the civil registry in anticipation of the approval of a draft law that would allow Lebanese expatriates to apply for dual citizenship.
Suleiman said that the draft law, which the Cabinet approved late last year, "has been submitted to Parliament and will be approved soon."
Suleiman Called the Lebanese expatriates the "oxygen" of Lebanon and said they should have preferential opportunities to invest in Lebanon, and urged them " not give up their Lebanese land, for it is precious. Build your home on it." He stressed.
Suleiman said that the most important project for Lebanon is "to develop a modern electoral law that will represent all the Lebanese fully, and will ensure the right of expatriates to vote."
The Lebanese parliamentary elections are scheduled to take place about a year from now, but it is far from certain what electoral law will be applied . The president and the Minister of interior are facing an uphill battle in convincing all the Lebanese lawmakers to adopt the proposed new law that is based on proportional representation . A large number of the MPs want to stick with the modified 1960 electoral law , because they fear that Hezbollah arms could change the balance of power in Lebanon if these arms are not handed over to the state before the pools take place. Former PM Saad Hariri and Progressive Socialist party leader Walid Jumblatt are leading the fight against the proposed electoral law.