UN observers face uphill battle in Syria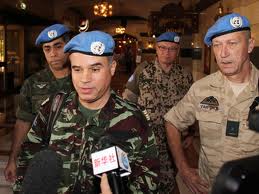 The UN truce observers in Syria and the government of President Bashar al-Assad will be playing a cat-and-mouse game in how effectively the monitoring mission can carry out its mandate, an expert said Monday as shellfire continued booming in the rebel stronghold of Homs.
Mr Assad accepted the truce deal on Sunday at the prodding of his main ally, Russia, but his compliance has been limited.
He has halted shelling of rebel-held neighbourhoods, with the exception of Homs, but ignored calls to pull troops out of urban centres for fear of losing control over a country his family has ruled for four decades. Rebel fighters have also kept up attacks, including shooting ambushes.
The international community hopes UN observers will be able to stabilise the ceasefire, which formally took effect on Friday.
A six-member advance team of UN observers headed to Damascus on Sunday, a day after the UN Security Council approved such a mission. A larger team of 250 observers requires more negotiations between the UN and the Syrian government next week.
Mr Assad is a reluctant participant in the UN plan, so the observers' success will depend on how much access they can negotiate in Syria and how quickly the team can grow to a full contingent.
The UN Security Council has demanded freedom of movement for the UN team, but the regime could try to create obstacles.
"This will be a serious cat-and-mouse game between the government and the UN for weeks to come," George Lopez, a professor of peace studies at the University of Notre Dame in Indiana, said of the new observer mission.
He said it was in Mr Assad's interest to try to buy time.
Yesterday, the Minister for Foreign Affairs, Bob Carr, said in London that a ceasefire remained the best hope for lasting peace.
"The notion of a ceasefire and a withdrawal of military forces from built-up areas is the first step and then allowing a Syrian-led political transition; I think that's our best hope," Senator Carr said.
"I will be happy when we've got international observers measuring the implementation of a ceasefire," he said.
The Australian
Photo: Moroccan Col. Ahmed Himmiche, foreground, is flanked by other U.N. observers as he talks to journalists before leaving the Sheraton Hotel in Damascus, Syria, Monday, April 16, 2012. (AP Photo/Bassem Tellawi)