Lebanon presidnet urges Arabs to extinguish the Syrian fire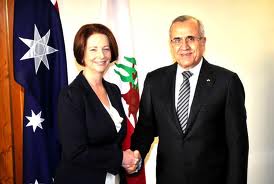 Canberra – During his official visit to Australia, President Michel Suleiman told the Arab ambassadors that he is seriously concerned about the unrest in Syria and warned that the violence might spread to Lebanon National News Agency reported on Monday.
He said that all sides in Syria are keen on achieving democracy in their country, adding that they should make their choice away from violence and urged Arab countries to assume their responsibilities and "extinguish the [Syrian] fire or at least limit its spread."
Suleiman later held talks with Australian Prime Minister Julia Gillard. Following the meeting Suleiman
lauded Lebanese-Australian ties , attributing them to a shared outlook on ethical issues, and called for an urgent solution to the Middle East conflict.
"There is an acute need for finding "just and comprehensive" solutions to the conflicts in the Middle East "away from the danger of division and fragmentation."
He praised Australia's "firm commitment" to human rights, U.N. resolutions and the condemnation of injustice , extremism and terrorism, and described the ties that bind the two countries as "stemming from the values of democracy and freedom."
During an official luncheon that was later hosted in his honor by Gillard, Suleiman addressed the Middle East peace process.
"At a time when the Arab world still seeks to find ways toward reform and democracy and respect for human rights… there is an urgent need to arrive at a just and comprehensive solution to all aspects of the Middle East conflict."
He added: "This requires a political decision and real international will to provide the pressing factors that will force all sides to commit to the solution."
For her part, Gillard highlighted the Lebanese people's role in her country, noting their political, economic, social, and cultural contributions.
They both stressed the need to back Lebanon's sovereignty, unity, and independence, especially through supporting the United Nations Interim Force in Lebanon, Special Tribunal for Lebanon and the implementation of U.N. Security Council resolution 1701.
They also both voiced hope to bolster cooperation between Lebanon and Australia in defense and military fields and welcomed the establishment of a Lebanese chamber of trade and industry in Melbourne.