Palestinian official accuses Iran of provoking region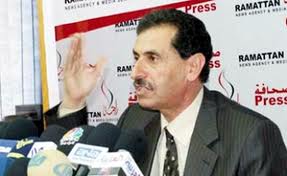 The secretary-general of the Palestinian Authority on Monday accused Iran of provoking regional strife by violating the sovereignty of the UAE.
Tayyeb Abdul Rahim condemned Iranian President Mahmoud Ahmadinejad's recent visit to Abu Musa, one of three Gulf islands claimed by both the UAE and Iran.
The PA rejects Iranian threats to the Gulf states "as we reject the Israeli occupation and resist it," the secretary-general said in a statement.
He said Ahmadinejad's visit was intended to create problems in the Palestinian arena, in the Gulf areas and in general across the Arab world.
Abu Musa is valued for its strategic position in the Strait of Hormuz and for its potential oil reserves. The island has been held by Iran since 1971, shortly before the seven Gulf emirates gained full independence from Britain and formed the UAE.
Saudi Arabia also criticized Ahmadinegad's trip. The Saudi cabinet said it was a "transgression of efforts towards a peaceful solution of the issue of the UAE islands," the Saudi Press Agency reported.
PA 'rejects Iranian intervention in Palestine'
Abdul-Rahim also said the Palestinian Authority rejected Iranian intervention in Palestinian issues. He accused Iran of serving Israel's occupation by aiding the split between Fatah, which leads the PA, and Hamas, which governs the Gaza Strip.
Iran's activities in the Palestinian arena have destroyed efforts to end the national division and achieve reconciliation, Abdul-Rahim said.
In March, Fatah accused Iran of paying Hamas to block a reconciliation agreement to end the longstanding rift between the parties.
"We have information that Iran paid tens of millions of dollars to Zahhar and Haniyeh in their visits to Iran," said Fatah spokesman Ahmed Assaf, referring to Hamas leaders Mahmoud Zahhar and Ismail Haniyeh.
"Zahhar, Haniyeh and Hamas's Gaza leadership were paid by Iran to freeze reconciliation."
Hamas rejected the charges.
"The Fatah government did not implement any of their obligations (under the unity deal) and they prefer American money to nationalist agreements," Hamas spokesman Taher al-Nunu said.
Maan