Khoury relays results of Syria's investigation of Shaaban's murder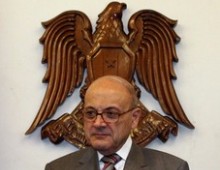 Secretary-General of the Lebanese-Syrian Higher Council Nasri Khoury said on Monday that he has relayed to President Michel Suleiman and Prime Minister Najib Mikati the results of the preliminary investigation of the death of Al-Jadeed cameraman Ali Shaaban as conducted by the Syrian authorities .
"[I] also [informed] them of the Syrian authorities' hope that the Lebanese [authorities] investigate the case since all the data is present in Lebanon, where the incident happened," Khoury told NBN television.
He also said that there was Syrian interest in knowing "the entire truth" regarding the murder of Shaaban because the latter was Syria and Lebanon's "martyr."
Al Jadeed (New ) TV reporter Hussein Khreis and cameraman Abdul Tabaja were also wounded in the attack.
Khoury who is known for his bias towards the Syrian regime did not publicly reveal to NBN the results of the investigation.
The Lebanese-Syrian Higher Council should have been abolished long time ago and specially since Lebanon and Syria have established diplomatic relations, but Khoury who is a member of the Syrian Social Nationalist Party ( SSNP) ( which is closely allied with Hezbollah and Syria) continues to defend the continued existence of the council.
Lebanon's Al-Jadeed satellite television on April 9 accused the Syrian army of killing Shaaban, saying it opened fire on the crew which was on Lebanon's side of the border.
Al Jadeed owner Tahseen Khayyat told the station that the Syrian army attack was "deliberate and was not an accident," stressing that "the vast number of bullets that riddled the car confirm that , adding " we do not need at all an investigation from the Syrian side on this subject "
In an interview with the channel Khayat said "we received many threats from the Syrian regime, but we will not give in, and will remain behind the truth ."
Khreis told the channel: "If you see the car you would think it was in a war zone,"
SANA, the mouthpiece of the Syrian regime denied any role for the Syrian army in the murder of Shaaban immediately after the attack took place .