Did the wave of assassinations return to Lebanon?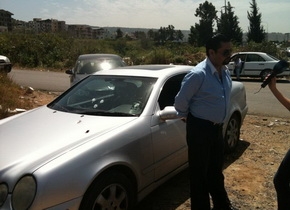 Another prominent Lebanese survived assassination attempt. Journalist Mustafa Mustafa Jeha, escaped an assassination attempt as he was driving Saturday night on the highway , near Damour, south of Beirut according to National News Agency NNA.
Last Monday al Jadeed ( New) TV Camereman Ali Shaaban was killed reportedly by the Syrian troops as he and his colleagues were filming a report on the Lebanese side of the border. Two of his colleagues were wounded in the attack.
Ten days ago Lebanese Forces leader samir Geagea also miraculously miraculously survived an assassination attempt when he was shot at by "snipers" as he was walking with bodyguards outside his residence in Maarab. The bullets reportedly left holes in the wall of his house.
Jeha, 26, told police that gunmen riding a black Mercedes chased him on the Damour-Jiyeh highway before opening fire on his silver-colored Mercedes CLK 320 near the Oceana beach resort, between Naameh and Damour.
NNA reported that his vehicle was riddled with six bullets.
In an interview interview with March 14 website after the attempted assassination, Jeha who is a Shiite political activist from the town of Jabbeen in the Tyre district said that whoever tried to assassinate him must be a coward in every sense of the word. He said the perpetrator who was sitting next to the driver never left his car was masked and tried to kill him with a pistol .
He accused the perpetrators of trying to kill him the same way his father Mustafa Jeha was assassinated on Jan. 15, 1992 and wondered if the wave of assassinations has returned to Lebanon.
Jeha's father who was a contributing writer to a Phalange party paper was reportedly killed by unidentified gunmen while driving his car in the east Beirut suburb of Sabtiyeh. Jeha who was outspoken against the Syrian occupation of Lebanon and fundamentalism had published works that were critical of the late leader of the 1979 Iranian Revolution Ayatollah Khomeini.
Jeha recently launched Lebanese Sovereignty Movement, a political party which is very critical of Hezbollah. He also recently called for reopening of the file of his father's assassination.
Many analysts compare this period to 2004 when former minister and MP Marwan Hemadah miraculously survived an assassination attempt on October 1, 2004. He was accused of being behind UN security council resolution 1559 which called for the Syrian troops to leave Lebanon and for Hezbollah to be disarmed.