McCain: U.S. should arm Free Syrian Army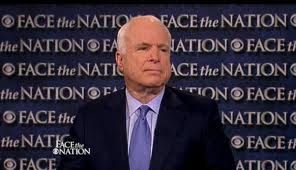 US Senator John McCain (R-Ariz.), who recently returned from a trip to Turkey where he met with members of the Free Syrian Army, said Sunday that the United States should supply the group with weapons.
"For the United States to sit by and watch this wanton massacre is a betrayal of everything we stand for and we believe in," McCain said on CBS's "Face the Nation," as he called on the U.S. to "lead for a change."
"Not lead from behind, but lead from in front," he said. "Over there, they're waiting for American leadership. We have announced that we are now providing them with non-lethal equipment — that doesn't do very well against tanks and artillery."
McCain, the ranking Republican on the Armed Services Committee, recalled hearing stories about murder, torture and rape that's taking place across the country from Syrians hiding out in refugee camps.
"We need to get a sanctuary for the Free Syrian Army, we need to get them supplies, we need to get them weapons. And there are many ways to get weapons to them. We showed that in Libya, we showed that in Afghanistan," he said. "It's not a fair fight."
Meanwhile, McCain emphasized that he doesn't believe American troops should be sent to Syria, clarifying that he still supports a no-boots-on-the-ground policy.
"Of course not," he said. "I think we saw in Libya that there were other countries that did some work on the ground that were willing to do so … We can lead and help coalesce a group of nations."
"A massacre is going on as we speak," he said.
Politico