At least one million people displaced in Syria: U.N. chief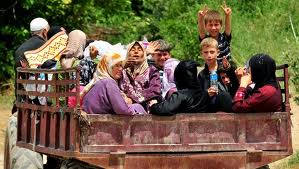 At least a million people have been displaced inside Syria during a 13-month crackdown on dissent, United Nations chief Ban Ki-moon said Saturday.
"We are very much concerned that at least one million people have been displaced inside Syria and there are still many Syrian refugees in neighboring countries," said the secretary general in comments issued by the U.N. following his meeting with peace envoy Kofi Annan in Geneva.
Ban said U.N. humanitarian chief Valerie Amos will host a meeting in the Swiss city next Friday to begin the task of getting aid to Syria's needy.
"I hope that (it) will be able to mobilize the necessary humanitarian resources so that all needy people will be able to get the necessary humanitarian assistance," he said.
Al Arabiya/ AFP