MP Geagea slams Hezbollah MP remarks over husband's incident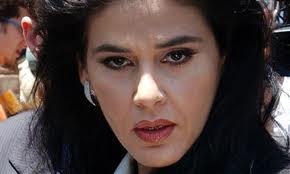 MP Strida Geagea , wife of Lebanese Forces leader Samir Geagea slammed in a statement released by her media office on Wednesday Hezbollah MP Mohammed Raad over his remarks on the assassination attempt that targeted her husband.
MP Geagea said that all the official stances of key Lebanese figures confirm the seriousness of the attack against Mr. Geagea
"The stances of President (Michel Suleiman), Prime Minister (Najib Miqati) and Interior Minister (Marwan Charbel) confirm the seriousness of the attack, and constitute an overwhelming response to the statements of MP Raad," she stated.
Earlier MP Raad decried attempts by some politicians to exaggerate the news about the attempted assassination event with naming Geagea in his criticism.
MP Geagea expressed regrets over Raad's remarks.
"Personally if I was informed that (Hezbollah secretary general) Sayyed Hassan Nasrallah was attacked, I would've been the first one to condemn it," she said
She cautioned Raad that the assassinations might be targeting the March 8 leaders someday, rather than only targeting the March 14 leaders but added
" We refuse violence and killings, and if that happens we will be the first to condemn any attack," MP Geagea stressed
She expressed hope Raad and others "commit to a certain level of morality and values as Lebanon shouldn't lose those principles that constitute a main part of its culture."
Mr Geagea, a leading Lebanese opposition figure and outspoken critic of the Syrian regime and Hezbollah arms , said he survived an assassination attempt outside his house on Wednesday.
The Christian leader told journalists he had been shot at twice by "snipers" as he was walking with bodyguards outside his fortified residence in Meerab, northeast of Beirut.
Charbel said Thursday that the attempted assassination of Mr Geagea, was "serious" and it was a "miracle" that he (Geagea) has escaped the assassination.
Iran connection
According to a Lebanese observer, the Iranian and Syrian backed Hezbollah may be nervous and this was reflected in Raad'd remarks because of the ongoing investigation of the incident.
An Nahar reported last Thursday that based on initial investigations the shots were fired from a distance of about 1.5 kms ( about 0.90 miles) from the LF HQ in Meerab. The newspaper also reported that the initial investigation indicated that the weapon used by the snipers is "very sophisticated" and "virtually unavailable in Lebanon". It concluded attackers used the "Steyr HS.50, with the 12.7mm caliber", a sniper rifle manufactured in Austria but mainly sold to Iran.
Vienna was criticized in 2006 by London and Washington for having sold over 800 of these rifles to Tehran, according to The Telegraph newspaper.