Special Report: In Syria, some Assad loyalists waver
A young writer living in Syria's capital city has agreed to share some observations of the uprisings and subsequent crackdowns happening across the country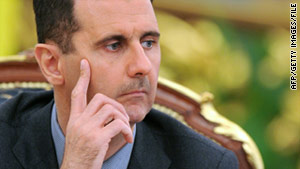 A young writer living in Syria's capital city has agreed to share some observations of the uprisings and subsequent crackdowns happening across the country. NY Times Editors have withheld the writer's name for security reasons.
By NY Times Editors
For the past several months I've seen my neighbor Um Sowsan at least a couple of times each week. We have a friendly, if not particularly intimate, relationship. Occasionally she offers me a ride to the shop in her car, or shouts down at me from her window. I know the names and ages of her children, and when they are sick or studying for exams. I know she is Christian, co-operates a small business with her husband, and supports the Assad regime with a stoic, fanatical loyalty.
And throughout the past year of revolution in Syria – a year characterized by surging protests, increasingly chaotic and horrific violence, spreading lawlessness, and deepening economic deprivation – she has exuded the relentless cheer so common to Assad's defenders. For months she has recounted the same narrative, strikingly similar to the one advanced on state television: there was a minor terrorist problem in Homs, led by foreign, possibly Israeli-backed saboteurs, but the government has everything under control.
However, a couple of weeks ago, as we exchanged the usual morning greetings, she asked me how I was. "Fine," I said, without much consideration. "And you?" "Existing," she responded. She wasn't great, or good, or even okay. She was "existing."
The value of the Syrian lira has finally dropped below half of what it was a year ago, scores of hacked Assad emails – callous and out of touch – have just been leaked to the public, two car bombs have exploded in Damascus, and Russia has proclaimed Kofi Annan's peace plan as Syria's last hope to avoid a prolonged and gruesome civil war.
My neighbor's shift in attitude is representative of a recent wave of doubt that has convulsed those communities traditionally most committed to Assad, those of religious minorities, the middle-class, Damascus, and even the urban elite. They may not be flocking en masse to join the Free Syrian Army, but they are asking new questions, expressing doubts, admitting discontent, reflecting, criticizing, and even daring to imagine alternatives to the status quo in a way that would have seemed impossible only six months ago.
A combination of factors is bringing the revolution, or at least the first tremors that herald its approach, to a new population previously dismissive of or indifferent to its grievances, demands, and goals. The economy is crumbling quickly and although the poorest segments of Syrian society have suffered its inefficiencies, capriciousness, and impending collapse since even before the first protests, the middle class is finally starting to understand its own precarious position. Their savings are losing value fast, and even their connections can't help them circumvent shortages of food and heating fuel. They now live in persistent, paralyzing fear of robbery, or worse, at the hands of the hungry, discontented masses.
The Assad regime can longer guarantee the stability and security that were once among its greatest appeals. The revolution has dragged on for over a year, despite mass arrests, intimidation, brutal abuse of prisoners, tanks stationed threateningly along main highways and city squares, roving and reckless militias, massive security presence, and checkpoints choking nearly every road. As stories emerge of regime figures – army generals, notorious security chiefs, doctors accused of torture – murdered in their homes, a new terror seizes the complicit middle-class. When car bombs tear open the same roads they drive on during their morning commutes, the engineers and lawyers and doctors of middle-class Syria begin to wonder where else they might turn for protection. They sigh with tired, impatient disbelief as the army enters Homs, once again, to quell the rebellion, and enters Dara'a, once again, and Deir Ezzor once again, and no matter the violence or promises of reform, the revolution continues to grow, mocking what appears to be an increasingly impotent government.
The slogans of the revolution have changed, from calls for elections to calls for Assad's blood. The revolutionaries have changed too, becoming increasingly dedicated, increasingly willing to pick up arms, if need be, to sacrifice their own lives, to fight for years or decades if that is what democracy and rights demand. And so the center of Syria – the normal, the expected, the acceptable – seems to be shifting too. A year ago, at the start of the uprising, to advocate a multiparty system of governance was downright subversive. Now the terms of the discussion, its range and its tenor, have changed.
Passing through a military checkpoint recently, a minibus driver complained loudly of the stupidity of soldiers. He did so despite the presence of soldiers sitting only a few rows back. Not long ago, the television at the local vegetable shop was always tuned to American action films. Now it plays BBC Arabic – condemned by the regime as the manipulative mouthpiece of terrorists – publicly, openly, defiantly.
Even Assad's remaining supporters no longer profess the same undaunted faith in his infallibility, or even the desirability of his continued rule. Wafaa, a working-class single mother of two from Damascus, insists that the crisis has little to do with Assad, that the president is good and upright, but the people around him are running wild. "He is weak. He is very weak," she says, by way of explanation. Yusef, a taxi driver in the Damascus suburbs, affirms his absolute love for Assad before concluding, "we hope he will survive."
Abu Sowsan, Um Sowsan's husband, in the same breath in which he swears off the opposition in Homs as Salafists, terrorists, and animals, concedes that the Baath party probably shouldn't control the country any longer. Even Khalid, a young man from a prominent local family who claims to be a soldier, though his neighbors insist he is a member of the pro-Assad shabiha militias, assumes that the revolution will only end when the Assad government agrees to share power with the opposition. And then, he says, "we will see."
These are the faithful, the believers, the diehard loyalists who have supported the regime through many violent, grueling months. But they are no longer certain. The earth upon which the Assad castle is built is beginning, ominously, to tremble. They are not calling for his downfall, they are not proclaiming any allegiance to the opposition, they have not decided what they stand for – yet – but they have started asking brave, new, subversive questions. They have started doubting, started recognizing failures and frustrations, and they have started looking beyond Assad's ever-looming shadow for other visions of the future.