Istanbul to host nuclear talks, says Iranian state TV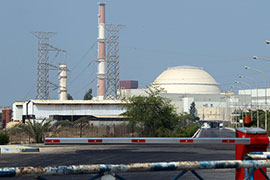 An Iranian state television station reported Sunday that international negotiations about the country's disputed nuclear program will take place in Istanbul, indicating that disagreements over the venue that had threatened to derail the talks may be resolved.
But there was no confirmation however from Turkey nor from the six world powers involved in the April 13 meeting — the five permanent U.N. Security Council members and Germany — that Iran had confirmed its participation.
Iranian officials had earlier dismissed Turkey as a host because of Ankara's criticism of Iran ally Syria. Western officials said this was a delaying tactic.
The U.S. and its allies say Iran is using its nuclear program as a cover to develop weapons technology. Iran denies this and says the program is intended for peaceful purposes like research and cancer treatment.
Iran's official English-language Press TV quoted an unnamed official at Iran's Supreme National Security Council that the April 13 negotiations would take place in Istanbul. The council handles Iran's nuclear program.
However, the independent Iranian news website, irannuc.ir, said the venue of the talks has not been finalized yet because Iran's partners have not declared their final opinion.
Turkey's state television also quoted Turkish Prime Minister Recep Tayyip Erdogan, who is on a visit to China, as saying, "There is no confirmed information at the moment."
Some Iranian officials had said that talks ought to be hosted by Iranian allies such as Iraq or China. Iran's formerly close ties to Turkey have soured over Ankara's condemnation of the Syrian regime's crackdown on the country's uprising.
AP