Annan says Syria violence "unacceptable", breaks guarantees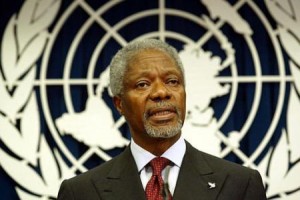 International mediator Kofi Annan said on Sunday an "unacceptable" escalation in violence in Syria violated guarantees made to him and called on Damascus to keep its promises to end the bloodshed.
The special envoy for the United Nations and Arab League urged both Syrian forces and opposition fighters to halt all forms of violence by 6 a.m. Damascus time (11 p.m. Eastern Time) on April 11, in line with his six-point peace plan agreed on March 27.
"I am shocked by recent reports of a surge in violence and atrocities in several towns and villages in Syria, resulting in alarming levels of casualties, refugees and displaced persons, in violation of assurances given to me," Annan said in a statement issued by his Geneva office.
Syrian forces loyal to President Bashar al-Assad shelled an area in the rebellious province of Idlib near the border with Turkey on Sunday, killing and injuring dozens of people, opposition activists said.
Each side has accused the other of intensifying assaults in the run-up to the truce.
A peace plan drawn up by Annan requires Assad to "begin pullback of military concentrations in and around population centers" by April 10 for a truce to start 48 hours later. But that looks in doubt with each side accusing the other of intensifying assaults as the deadline approaches.
"As we get closer to the Tuesday 10 April deadline, I remind the Syrian government of the need for full implementation of its commitments and stress that the present escalation of violence is unacceptable," Annan said.
"This is a time when we must all urgently work towards a full cessation of hostilities, providing the space for humanitarian access and creating the conditions for a political process to address the legitimate aspirations and concerns of the Syrian people," he said.
Syria said on Sunday it wants "written guarantees" that insurgents will stop fighting before it pulls back troops under a peace plan agreed by President Bashar al-Assad, casting fresh doubt over a truce that is due to happen this week.
Annan's statement made no reference to the Syrian demands.
"I am in constant contact with the Syrian Government and ask all States with influence on the parties to use it now to ensure an end to the bloodshed and the beginning of dialogue," he said.
The former U.N. Secretary-General, who held talks in Moscow and Beijing late last month, has announced plans to go to Tehran on April 11 for talks with senior Iranian officials. Iran is a key ally of Syria in the region.