Assad guilty of crimes against humanity?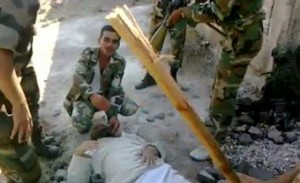 Syria's regime is committing human rights atrocities, including torture of men arbitrarily detained by security forces, that could amount to "crimes against humanity," US envoy Robert Ford said Tuesday.
Ford also told a US congressional hearing that President Bashar al-Assad showed "little interest in human rights" but argued against further militarization of the conflict, saying diplomatic pressure should prevail on Assad to give up power.
Ford, in Washington after having been recalled by the administration of President Barack Obama, painted a picture of horrific and worsening violence in the Middle Eastern nation which has endured a year-long uprising against the Assad regime.
"I raised human rights continually during my tenure in Damascus, starting with my first meeting" with Assad 13 months ago, he said.
"Assad showed little interest in human rights. In fact he was rather annoyed that I raised it."
"And his callous disregard over the past year has degenerated into massive human rights violations that may amount to crimes against humanity."
In short but powerful testimony before the Tom Lantos Human Rights Commission of the House of Representatives, Ford said that in the past year, "the human rights situation there has become much worse."
The envoy cited figures from UN and rights groups which say that between 8,000 and 10,000 people have died.
"Beyond the brutal killings of peaceful demonstrators… the worst human rights violations occur in detention facilities, where dozens of methods of torture have been documented by observers and researchers," Ford said.
Obama has long called for Assad to relinquish power, and the administration has slammed Russia and Iran for their apparent military aid to Damascus.
But Ford suggested that arming the opposition, as has been called for by US Senator John McCain, was not the right move.
"I don't want to speculate about what might be warranted in the future, but I do want to underline, we do not believe now that further militarization of the situation in Syria is the best course forward," he said.
Now Lebanon