Lebanese author awarded International Prize for Arabic Fiction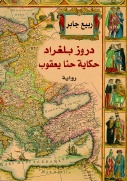 A Lebanese author has won the International Prize for Arabic Fiction for his novel depicting life of a Christian egg seller after war, in exile and during imprisonment. The prize is a prestigious Arabic literary award, affiliated with the Booker Prize Foundation in London.
Rabee Jaber was awarded the prize for his novel titled The Druze of Belgrade. The author's second historical novel is set directly after the 1860 civil war. It explores Lebanese identity when a Christian egg seller is forced to take the place of an exiled Druze fighter, accused of killing Christians.
The innocent seller joins the banished Druze community, which is sent to a Belgrade prison, on the borders of the then Ottoman Empire. Living in the Balkans, the Lebanese strangers struggle to stay alive in the foreign land. The book chronicles Yacoub's 12-year imprisonment and the suffering he experiences in Belgrade and other parts of the Balkans.
Six novels were shortlisted in January, including two works from Lebanon, two from Egypt, one from Tunisia and one from Algeria. No women authors are competing for this year's prize.
Each of the shortlisted authors receives $10,000 in addition to having their books translated. The winner is awarded an additional $ 50,000. The annual award is managed by the British Booker Prize Foundation and is funded by the Emirates Foundation in Abu Dhabi.
From 2012's six writers, four had been nominated in previous years including Jabbour Douaihy and Rabee Jaber from Lebanon, Ezzedine Choukri Fishere from Egypt and Habib Selmi from Tunisia. It is Egyptian author Nasser Iraq's and Algerian author, Bachir Mefti's first appearances on the Arabic Booker Prize list.
The prize was awarded Tuesday in the Emirates capital, Abu Dhabi.
The judges committee included Syrian writer and critic Georges Tarabichi (the chair), Lebanese journalist and literary critic, Maudie Bitar, Egyptian academic and women's rights activist Professor Hoda Elsadda, Qatari writer and academic Dr Huda al-Naimi and Spanish academic, translator and researcher Dr Gonzalo Fernández Parrilla.
AP, Ahramonline