Syria blames Lebanon for arming rebels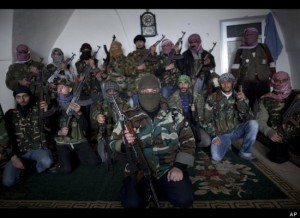 Armed "terrorist groups" in Syria have been receiving weapons from supporters in Lebanon and other states along the Syrian border, Damascus said in a complaint to the United Nations released on Monday. He said there had been multiple "confiscations of weapons, explosives and explosive devices smuggled from Lebanon to Syria by certain Lebanese political forces linked to terrorist groups funded and armed from abroad."
"Experts, officials and observers are unanimous that weapons are being smuggled into Syrian territory from bordering States, including Lebanon," Syria's U.N. Ambassador Bashar Ja'afari said in a letter sent last week to the U.N. Security Council and Secretary-General Ban Ki-moon.
He gave no details about which countries or "Lebanese political forces" were arming and funding Syrian rebels.
Damascus has repeatedly described armed opposition fighters determined to topple Syrian President Bashar al-Assad as terrorists. Assad's 12-month campaign to crush an opposition inspired by "Arab Spring" uprisings across the Arab world has killed well over 8,000 civilians, according to U.N. figures.
Qatar and Saudi Arabia – nations that diplomats and analysts say are eager to undermine Damascus' ally Iran – have voiced support for the idea of arming Syrian rebels, but they do not share a border with the country. Syria's neighbor Turkey has hosted the Syrian Free Army rebel force but denies arming it.
Iraq said last month it had reinforced security along its Syrian border to prevent arms smuggling, after reports fighters and weapons were crossing into Syria to help in the fight against Assad's army and security forces.
Lebanon has had a complicated relationship with Syria, which continues to exercise some influence over its neighbor despite the 2005 departure of thousands of Syrian troops and intelligence operatives from Lebanese soil.
PART OF SYRIAN-LEBANESE BORDER MINED
Ja'afari said the issue of "so-called Syrian refugees is, to a large extent, a fabricated one."
Ja'afari's letter was a response to Ban's latest report to the U.N. Security Council on Lebanon, which said that the Syrian conflict "could have negative ramifications for the stability of Lebanon."
Ban's report said, "Syrian security forces have continued to carry out operations along the Syrian-Lebanese border, part of which has been mined in recent months." It also said that there have been cross-border incidents that led to civilian deaths and injuries in Lebanon.
Ja'afari said the issue of "so-called Syrian refugees is, to a large extent, a fabricated one." Ban's report on Lebanon said that as of January 27, 2012, over 6,000 displaced Syrians who fled the bloodshed at home had sought refuge in Lebanon.
"The notable improvement in the security situation (in Syria) has led sizeable groups to return to their country and resume their work, which the terrorist groups had prevented them from doing," Ja'afari said.
"There are, however, terrorist groups that flee to neighboring States claiming to be innocent refugees who have been attacked by the security forces," he added.
There are now over 16,000 Syrian refugees in Lebanon.
The Syrian envoy said any suggestion that Syria's internal turmoil was having any impact on Lebanon was part of a campaign intended to the discredit the Syrian leadership. He also made clear that Damascus was unhappy about Western journalists defying the Syrian ban on foreign reporters.
"The infiltration of French, American and British journalists over the border from Lebanon into Syria must be condemned, as it violates the sovereignty of Lebanon and Syria alike," Ja'afari said.
Reuters