Romney calls Russia enemy number one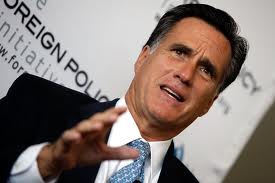 Mitt Romney, a U.S. presidential candidate from the Republican Party, said Russia is "number one geopolitical foe" for the United States, CNN reported on Tuesday.
In an interview with CNN Romney said that Russia "lines up with the world's worst actors" including Syria and Iran.
"Russia continues to support Syria. It supports Iran, has – has fought us with the crippling sanctions we wanted to have the world put in place against Iran. Russia is not a friendly character on the world stage," Romney was quoted as saying.
He also blasted recent talks of U.S. President Barack Obama with his Russian counterpart Dmitry Medvedev at the nuclear security summit in Seoul on Monday.
"The actions he's taken so far, which he says are to reset relations with Russia have not worked out at all," Romney said adding that Obama's words to Medvedev about flexibility are "alarming and troubling."
CNN reported that President Obama was caught on an open mike saying to Medevedev "This is my last election. After my election, I have more flexibility."
"Russia is the geopolitical foe… and the idea that our president… is planning on doing something with them that he's not willing to tell the American people before the election is something I find very, very alarming," Romney said.
The election is scheduled for November 2012 and the inauguration of the new president will be in January 2013. According to the latest poll results, President Obama holds the edge and is the favorite to win.
Obama described the meeting with Medvedev in Seoul as highly productive, noting achievements in the last three years including the strategic nuclear arms reduction treaty with Russia. He also accepted an invitation from Medvedev to visit Russia after the U.S. presidential elections.
RIA Novosti