"The regime is wiping out the city" – Syrian massacre of Homs continues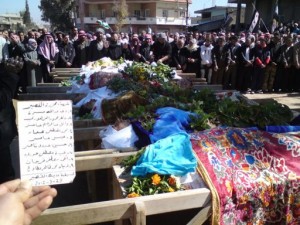 Turkey and Norway closed their embassies in Syria on Monday, further isolating President Bashar al-Assad whose forces bombarded the battered city of Homs with mortars in an effort to quell unrest.
"Every day the shelling goes on. The regime is wiping out the city," said Waleed Faris, an activist who lives in Homs.
Video showed towering flames and thick black smoke billowing from at least two locations in Homs, Syria's third largest city, which has become the epicenter for the year-long revolt. Residents accused the army of indiscriminate shelling.
Sixteen people died in clashes around the country, the British-based Syrian Observatory for Human Rights (SOHR) said, with eight dying in the central city of Homs, a rebel stronghold that has become the epicenter of the year-long uprising.
Two of the dead were children, the group said.
Syria has formally responded to a peace plan put forward by U.N.-Arab League envoy Kofi Annan, his office said on Monday, but gave no details about the message.
"Mr. Annan is studying it and will respond very shortly," his spokesman Ahmad Fawzi said in a statement from Geneva.
Following the example of many Arab and Western states, Turkey said it had suspended all activities at its embassy as the security situation worsened.
Norway also announced it was closing its embassy.
Once a close ally of Assad, Turkey has denounced his efforts to crush the rebellion and has thrown its weight behind his opponents, announcing on Sunday that it would work with Washington to provide "non-lethal" aid to the Syrian opposition.
Annan, who presented Damascus with his peace proposals earlier this month, said on Monday the crisis could not carry on forever, but added that he had not set any deadline for a resolution of the conflict.
"It is not practical to put forth timetables and timelines when you haven't got agreement from the parties," Annan told journalists in Moscow, where he met on Sunday with Russian President Dmitry Medvedev.
"This cannot be allowed to drag on indefinitely and, as I have told the parties on the ground, they cannot resist the transformational winds that are blowing," he added before flying off for top level meetings in China on Tuesday.
FIGHTING NEAR TURKISH BORDER
Syria says it is battling foreign-backed terrorist groups and the official news agency Sana reported on Monday that troops had foiled an attempt by a group of armed infiltrators trying to enter across the Turkish border near the village of Darkoush.
It said an unknown number were killed and injured. Activists said two Algerian men with British nationality came under fire in the area; one was killed and another injured.
There were conflicting reports on whether they were journalists or if they had joined the rebel fighters.
In Harasta, a town near the capital Damascus, rebels attacked a military bus and killed three soldiers, the SOHR said, citing its network of activists inside Syria.
Heavy clashes in the province of Hama also continued, activists said. They uploaded footage of grey smoke billowing out of an old castle amid the crackling sound of gunfire in the town of Qalaat al-Madyaq, believed to be in rebel hands.
Videos and reports from inside Syria are impossible to verify as the government has restricted access to journalists and human rights workers.
Sana news agency said soldiers had killed "six of the most dangerous wanted terrorists" in a raid in the southern province of Deraa. They also thwarted a bid to blow up the al-Najih Bridge on the Damascus-Deraa highway, it said.
Security appears to be fraying in many parts of Syria despite repeated army offensives to regain rebellious territory. Activists said the government was struggling to hold such areas for long, with rebels swiftly re-emerging, as they have in Homs.
TRAVEL RESTRICTIONS
In a sign of growing anxiety about the security situation, the Syrian authorities have banned men of military age from leaving the country, Lebanese officials said on Monday.
The restrictions, issued on Saturday, require men between the age of 18 and 42 to get permission from military recruitment and immigration departments before travelling, the sources said, adding that border traffic at the main crossing between Beirut and Damascus had fallen by 60 percent since the regulation.
The move may impact the flow of thousands of Syrian workers who go to Lebanon for agricultural and construction projects, a major source of income in rural areas already hit by economic hardship as unrest grows.
The United Nations says more than 8,000 people have died in the revolt and there is little prospect of a quick resolution.
Annan's six-point peace proposal calls for a ceasefire, political dialogue between the government and opposition, and full humanitarian access for aid agencies.
Both Russia and China have previously vetoed U.N. Security Council resolutions highly critical of Damascus, drawing accusations from critics in the West that they were giving Assad a license to kill.
However, Moscow and Beijing have given full public backing to Annan's mission and the veteran diplomat is seeking assurances from both capitals that they will bring pressure to bear on Assad to comply with his demands.