Turkey closes embassy in Syria, sends strong message to Assad regime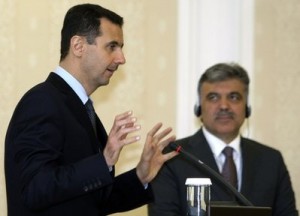 A Turkish diplomatic source said the mission was closed because of deteriorating security conditions in Syria and that all diplomatic personnel had left Damascus.
Turkey has become increasingly strident in its criticism of its one-time ally over a brutal crackdown on protests in Syria that activists say has left more than 9,000 people dead since March last year.
"Activities at the Turkish embassy have been suspended from this morning," the source told AFP, adding however that the consulate in the northern city of Aleppo will remain open.
"The closure of our embassy is obviously a strong political message (to the Damascus regime)," a source close to the Turkish government said.
Turkey has called on President Bashar al-Assad to step down and imposed a number of sanctions on Damascus, while emerging as the main haven for Syrian opposition groups.
It is due to host a "Friends of Syria" conference in Istanbul on April 1 to pressure the Damascus regime following a first such meeting in Tunis last month attended by leading officials from Western and Arab countries.
Syrian opposition factions including the main Syrian National Council are meeting in Istanbul on Monday to prepare for the conference. The fragmented opposition has struggled to remain united in the face of the regime's deadly crackdown on dissent.
Turkey joins a number of other countries which have already closed their embassies in Damascus, including the United States, some EU members and the six Arab monarchies of the Gulf.
Ahmet Davutoglu, the foreign minister, said last week that the survival of the Assad regime was "almost impossible".
"A regime fighting against its own people, trying to keep the status quo, cannot survive," he said in Vienna.
President Barack Obama meanwhile said he and Russian counterpart Dmitry Medvedev agreed on Monday to support diplomatic efforts to end the bloodshed in Syria and ensure a "legitimate" government there.
Syria was one of the top priority issues discussed during a 90-minute meeting between the two leaders in South Korea ahead of a nuclear summit, their final direct talks before Medvedev steps down and makes way for Vladimir Putin.
Mr Obama acknowledged in comments to reporters after the talks that there had been disagreements over the past few months between the United States and Russia, an ally of Syrian President Bashar al-Assad's regime.
But he said both agreed "we should be supportive of Kofi Annan's efforts to end some of the bloodshed that is taking place in Syria", and that the goal was to have a "legitimate" government in Damascus.
Russia and China last week backed a UN Security Council peace plan for Syria put forward by Annan, the UN-Arab League's envoy.
Annan's plan calls for a halt to fighting, with the government pulling troops and heavy weapons out of protest cities, a daily two-hour humanitarian pause to hostilities and access to all areas affected by the fighting.
It also calls for the release of people detained over the past year of the uprising against Assad in which the UN says well over 8,000 people have been killed.
Before flying to Seoul, Medvedev warned that Annan represented the last chance for avoiding a civil war in Syria.
Obama said he and Medvedev also discussed Iran's nuclear programme, with both expressing support for diplomatic efforts to end the impasse by the five permanent members of the UN Security Council plus Germany.
"We agreed that P5 plus one talks with Iran should be announced soon," Obama said.
"(The talks will) offer us an opportunity to talk diplomatically (on) the critical issue of ensuring Iran is abiding by its international obligations that will allow them to rejoin the community of nations," he said.
The United States and much of the West believe Iran's nuclear programme is geared towards obtaining a weapon. Iran says its programme is for civil power generation and medical purposes only.
The Telegraph