Obama pursuing diplomatic pressure against Iran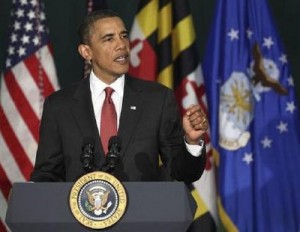 The Obama administration is looking for more ways to stop Iran from acquiring nuclear weapons and is encouraged by the help it is getting from Tehran's largest trading partners, Treasury Secretary Timothy Geithner said on Tuesday.
"We are going to keep looking at ways we can bring more pressure to bear," Geithner said at a congressional hearing. "We are making really substantial progress, and our hope is of course that it will alter Iran's calculations about their interest in pursuing nuclear capabilities."
Iran has repeatedly rejected Western accusations that its nuclear energy program is a cover for developing nuclear weapons, saying its goals are entirely peaceful.
Countries are scrambling to reduce their Iranian oil imports in order to avoid harsh U.S. sanctions that are to kick in at the end of June. If countries fail to significantly cut their reliance on Tehran's oil, their financial institutions could be blocked from U.S. markets.
Under pressure from the United States, Europe has imposed similar penalties on Iran's central bank, and its regulators have ordered the world's biggest electronic payment system, known as SWIFT, to block certain Iranian state-owned banks from using its network to help transfer funds.
SWIFT, or Society for Worldwide Interbank Financial Telecommunication, operates the bulk of global cross-border payments.
Geithner, who was addressing a U.S. House of Representatives Financial Services Committee hearing to examine the state of the global financial system, said support for U.S. action extends far beyond Europe. "You're seeing Japan, South Korea, China and countries around the world really moving with us to tighten up" sanctions against Iran, he said.
Japan has said it is close to an agreement with the United States over how much Iranian oil it would have to forgo in order to win an exemption from the U.S. law. And other countries have expressed a willingness to work with the United States.
Saudi Arabia, the world's top oil exporter, has said it will fill any oil supply gap created by the loss of Iranian oil – a move that helped the price of Brent crude on Tuesday fall to around $124 a barrel. Geithner said the statement from Saudi Arabia was a "very constructive signal."
In an attempt to force the administration to get tougher with Iran, U.S. lawmakers have been crafting legislation that would further isolate the regime by penalizing foreign companies for doing business with any Iranian bank or energy firm.
At Tuesday's hearing, Democratic Representative Brad Sherman questioned why the Obama administration had not blacklisted all Iranian financial institutions.
"If you forced me to change from Bank of America to Wells Fargo or even a lesser-known institution, that would not cause me to change my heartfelt policy. Shouldn't we designate all banks?" Sherman said.
The U.S. sanctions would bar foreign firms from U.S. financial markets if they continue to deal with the central bank of Iran, the main conduit for Iran's oil revenues.
Similarly, Europe is only forcing SWIFT to expel Iranian banks that have been designated by the European Union for helping Tehran finance its nuclear program.
Geithner said the administration was continuing to look at whether an all-out ban on Iranian banks was necessary.
"If it makes sense to do it, we will do it," he said. "But at the moment, I don't think that remaining gap itself is… material to our objectives. If it becomes so, we will take a look at it."
Reuters