Syrian brothers arrested in Lebanon for distributing expired meat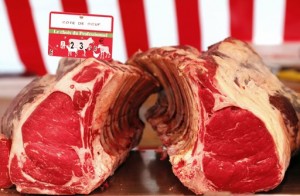 Beirut's First Investigative Judge Ghassan Oweidat issued arrest warrants against the Syrian Al-Natour brothers on charges that they stocked and distributed rotten meat to local markets, the National News Agency reported on Friday. Large amounts of spoiled minced beef, butter, green beans, fish filet, shrimp, frozen garlic, chicken, sujuk sausages and frozen meat have recently been confiscated from stores and warehouses in and around Beirut as well as south Lebanon and other areas of the country.
The NNA also said that the judge questioned Sleiman al-Natour in the presence of his lawyer.
An-Nahar newspaper reported on Wednesday that the two men arrested for stocking and distributing rotten meat to local markets were Syrian nationals.
During the Syrian occupation of Lebanon, the Al-Natour brothers forced a large number of touristic Lebanese establishments to buy meat from them, the daily said.
It also noted that many sanctions issued in the past against the two brothers were not implemented due to their close ties with Lebanese political figures affiliated with the Syrian regime.
Prime Minister Najib Mikati agreed Wednesday to apply strict measures to ensure food safety, launch a media campaign to raise awareness on the issue and revise the law governing consumer protection.
During a Cabinet session earlier in the day, President Michel Sleiman vowed to combat the sale of spoiled and expired foodstuffs, calling on the government to make the issue a priority.
In February Lebanese authorities confiscated 1.4 tons of expired meat Thursday in Fanar, northeast of Beirut, according to security sources.
The sources said members of the Consumer Protection Office also seized a quantity of imported meat bearing no expiration date labels during the morning bust on a meat and fish store in the Metn town of Fanar.
The sources said the bust took place after a tip-off.
Now Lebanon, An Nahar