Inside Assad's emails: Iran, Hezbollah, Armani, Christian Louboutin and Harry Potter
By Jerome Taylor Secrets of shopping obsessed Assads revealed in emails
By Jerome Taylor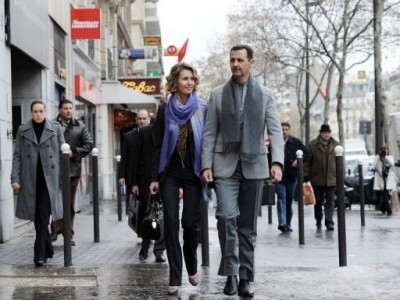 Syrian opposition groups managed to hack into the personal emails of President Bashar al-Assad and his British-born wife, Asma, monitoring them for nearly a year until the accounts were closed down.
The contents of the emails, some of which were made public last night, paint a devastating portrait of a dictator and his wife swapping YouTube videos, buying luxury goods and dismissing international demands for Mr Assad to step down as loyalists spearheaded a brutal crackdown that has led to 8,000 deaths over the past year.
President Assad takes advice from Iran and Hezbollah on how to suppress the ongoing rebellion against his rule.
He has surrounded himself with a coterie of Western-educated Syrians who advise him on how to handle the international media.
A senior member of the Qatari royal household begged Ms Assad to flee Syria with her husband and suggested Doha would welcome them.
Syria's first couple often seem oblivious to the carnage unfolding around them, with Ms Assad spending tens of thousands of dollars on luxury goods.
Opposition groups said they were able to access the personal email accounts of the couple after a mole in the President's own retinue gave them log-in details.
For nearly a year the groups were able to monitor the accounts in real time and used the incoming traffic to warn fellow activists about upcoming raids. The account became compromised shortly after the activist group Anonymous conducted a successful attack against a host of Syrian government email addresses earlier this year.
Activity on the accounts that were meant to belong to the Assads ceased the same day. The emails were later passed to The Guardian newspaper, which began publishing them last night. The paper's editors said they believed the messages were genuine after contacting many of those named in them. But the editors added that they couldn't guarantee the authenticity of all the emails, which Syria denied were real.
Among the most explosive revelations is the suggestion that the Syrian President routinely asks Iran and its proxy in Lebanon, Hezbollah, for advice. In an email about a speech that he was due to deliver in December, one of the President's media advisers said he had spoken to the Iranian ambassador who urged "powerful and violent" language to show that Mr Assad was not "shaken" by recent criticism.
That same month, the President also received an email from a well-known Lebanese businessman called Hussein Mortada who said Iran and Hezbollah had advised the President to cease blaming al-Qa'ida militants for a recent car bombing that occurred in Damascus.
Other emails reveal the lavish spending habits and personal preferences of Syria's first couple. Emails sent from Ms Assad's account suggest that she spent tens of thousands of dollars on gold and gem-encrusted jewellery, chandeliers, curtains and paintings to be shipped to the Middle East. In one message she asks an assistant to buy her a fondue set from Amazon.
Mr Assad sends his wife song lyrics, love letters and spends much of his time downloading an eclectic array of music from iTunes, navigating around US sanctions by using a third-party address in the United States.
Other emails show a relationship under strain. In one particularly poignant message to Ms Assad, whose family lives in London, the daughter of Qatar's emir begs her friend to leave the country, reminding her friend that brutal dictators rarely end their careers peacefully if they hang on.
Assad emails: What the messages reveal
Links to Iran
Advice relayed from the regime of Ahmadinejad to Assad on an upcoming speech.
From: Assad's media consultant
To: Assad
Date: 31/12/2011
"Invite widely the families of the martyrs [dead soldiers], to make the speech appear like a celebration. It is possible to have a band play a strong tune for the martyrs. Bring one of the martyr's wives to deliver a powerful speech on behalf of the martyr's families and then let the president come onto the stage."
Asma's shopping list
The three emails below show the President's wife shopping while Syria burns, concerned with shoes, DVDs and furniture.
From: Asma Assad
To: A Paris furniture boutique
Date: 19 July 2011
"For the candlestick pistil I would like to take one in size medium and the other in size small… I am still hoping you can send me a sample for the dark wood alternative for the empilee?"
From: Asma Assad
To: A family friend
Date: 3 February 2012
"Does anything catch your eye [referring to attached pictures of Christian Louboutin shoes] – these pieces are not made for general public…"
From: Asma Assad
To: Azmi Mikati, nephew of the Lebanese Prime Minister
Date: 20 November 2011
"Are you coming around the 2nd or before? If so, please can you bring the Harry Potter Deathly Hallows Part 2? [The film was released on 2 December]."
Refuge in Qatar
The email below shows advice to the Assads to flee to Qatar to avoid the possibility of overthrow or retribution from the West.
From: Al Mayassa Al Thani, daughter of the Emir of Qatar
To: Asma Assad
Date: 30 January 2012
"I honestly think that this is a good opportunity to leave and re-start a normal life – it can't be easy on the children, it can't be easy on you! …I only pray that you will convince the president to take this as an opportunity to exit without having to face charges."
The Independent