Tens of thousands demonstrate across Syria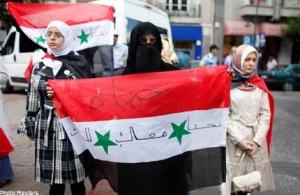 Tens of thousands demonstrated across Syria on Friday after the main weekly Muslim prayers, notably in northern Aleppo, with security forces opening fire on protesters in various regions, killing at least thirty one, activists said.
"There are 15 demonstrations taking place in the city of Aleppo and about 40 across the province," said Mohamed Halabi, a local activist reached by telephone from Beirut.
"Security forces have opened fire at most of the demonstrations to disperse the crowds," he added. "In Aleppo city, there is a heavy security presence and arrests taking place."
He said the protets in Aleppo marked the largest turnout since the revolt against President Bashar al-Assad's regime broke out one year ago.
Demonstrators called for Assad to be executed and for the rebel Free Syrian Army to be given weapons, he said.
Rami Abdel Rahman, head of the Britain-based Syrian Observatory for Human Rights, said up to 15,000 people demonstrated in the southern province of Daraa, cradle of the uprising.
Demonstrations were also taking place in the coastal city of Latakia, in central Homs and Hama, as well as Deir Ezzor in the east.
Abdel Rahman said one demonstrator was killed and five wounded in Jarablos, in Aleppo province, when troops opened fire on protesters.
Fifteen other civilians were killed in violence across the country, the Observatory said.
Opposition activists called for Friday's protests, which have become a weekly event since the uprising began, to be held in solidarity with the country's Kurdish minority, as they prepare to celebrate their New Year festival Nowruz.
Asia News