Journalists face grave danger in reporting from Syria
Reporting from Syria can be a nightmare, even lethal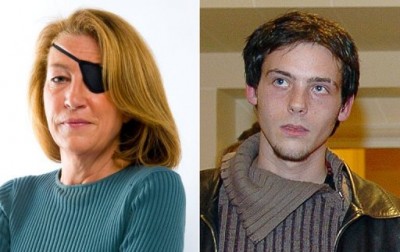 Slipping clandestinely across the border, threatened by wary rebels, their satellite transmissions relentlessly monitored by the army, foreign correspondents reporting from inside Syria face an ordeal that has already cost some their lives.
Damascus severely restricts the movement of the press in the country, so journalists wanting to make their way to rebel positions often have no choice but to be smuggled in from Lebanon or Turkey.
An AFP journalist recently undertook the difficult and dangerous journey, first by car, then by motorbike and finally along dusty roads, laden with heavy bags and flak jackets and guided by paid smugglers or rebels.
"Movement is more difficult" once you enter Syria, said Luc Mathieu of French daily, Liberation.
"I got stuck for four days because I wanted to go into the city of Idlib and the government had cut access to it."
An uncertain fate awaits any journalist who enters Syria, where regime forces indiscriminately arrest, torture and bomb.
On January 11, French journalist Gilles Jacquier was killed in a rocket attack, and he was even in Syria legally, on a government-sponsored tour of the rebellious city of Homs.
Eleven days later, American journalist Marie Colvin and French photographer Remi Ochlik died in another bombardment of the besieged city, with many people speculating that satellite transmissions from their makeshift media centre had allowed regime forces to pinpoint and target them.
War correspondent Robert Young Pelton recently wrote in Foreign Policy magazine that ally "Russia taught Syria: When you destroy a city, make sure no one — not even the story — gets out alive."
But the danger to one's life is only the beginning.
The sheer technical difficulty of transmitting stories, pictures and videos from inside Syria to readers outside is another nightmare.
Several rebel technicians, Western intelligence services and Pelton claim President Bashar al-Assad's forces have Russian technology, which Moscow used in its war against Chechen rebels, to track satellite emissions.
They say this is done mainly with drones — one of which was seen flying around Homs by an AFP correspondent.
Like AFP, Mathieu too saw rebels becoming nervous when he uncovered his Thuraya satellite phone.
"I was told you can call one minute per day, not more."
Syrian rebels advised AFP to connect its BGAN (Broadband Global Area Network) antennas to computers with cables at least 15 metres (yards) long.
"If the army fires a shell at the signal, you might survive," a rebel said.
Another difficulty is that the opposition too seeks to control the media.
A Western photographer who asked not to be identified said some rebels were furious at him for taking pictures of dead soldiers who appeared to have been summarily executed.
The rebels demanded he erase the photos or be killed, he said.
In another incident, rebels threatened to kill a cameraman after he mistakenly filed a video of a rebel officer, who didn't want his face to be shown for fear of reprisals against him or his family.
After tense discussions, the rebels relented after being promised that the video would be pulled off the air immediately.
And finally, when journalists finish their assignment they still have to leave the country, yet another nightmarish task.
Mathieu recalled how he crossed a river, up to his waist in icy water, only to be nabbed by Turkish police.
"I spent 18 hours in police custody. They thought I was a foreign spy," he said laughingly.
But for all the risks and difficulties, Pelton said it was essential that the story of what is really happening in Syria be told.
The world needs "more brave and bright journalists who will shine a light in places like Syria, where a regime works diligently to plunge its people into darkness," he wrote.
Khaleej Times