Lebanon FM won't allow Assad to step down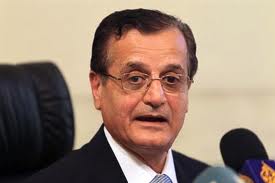 According to a report by An-Nahar newspaper on Tuesday Lebanon foreign Minister Adnan Mansour will oppose the resignation of Syrian President Bashar al-Assad in the upcoming Arab Foreign Minister's meeting that will be held in Baghdad.
He will also reiterate Lebanon's disassociation policy with regards to the Syrian crisis and its opposition the sanctions imposed on Syria , the paper added
"The worksheet prepared by Mansour will state that Lebanon opposes Syrian President Bashar al-Assad's resignation and the sanctions imposed on Syria," An-Nahar added.
Mansour who represents the Amal movement ( a close ally of Hezbollah ) in the cabinet has been criticized for his bias towards the Syrian regime . On January 23 Progressive Socialist Party leader MP Walid Jumblatt told Mansour to shut up over the Syrian crisis.
"If only Lebanon's envoy at the Arab League meetings would remain silent over the Syrian crisis instead of proposing solutions to the unrest." Jumblatt said
Lebanon's political scene is split between supporters of the Syrian regime, led by Hezbollah which has endorsed Assad's claim that he is fighting terrorists , and the March 14 alliance which is supporting the Syrian pro-democracy revolution. President Michel Suleiman , PM Nagib Mikati and Jumblatt claim to be centrists, but the Lebanese cabinet is heavily influenced by the Iranian and Syrian backed Hezbollah militant group.
Activists say hundreds have been killed in the month-long Homs offensive and the UN recently put the death toll for a year of violence in Syria at "well over" 7 500. However, activists group say the toll has already surpassed 8 000.
Syrian refugees fleeing to Lebanon on Monday said they feared they would be slaughtered in their own homes as government forces hunted down opponents in a brutal offensive against the opposition stronghold of Homs.
The UN refugee agency said Monday that as many as 2 000 Syrians had crossed into Lebanon over the last two days. In the Lebanese border village of Qaa, families with women with small children came carrying only plastic bags filled with a few belongings.