Hezbollah: Attack on Iran would set Middle East ablaze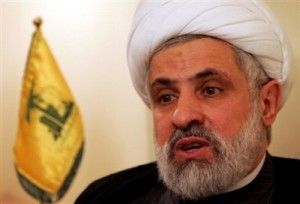 An Israeli attack on Iran's nuclear program would set the Middle East ablaze, possibly drag in the United States and unleash a conflict beyond the Jewish state's control, the deputy head of Lebanon's pro-Iranian Hezbollah movement said.
World oil prices have risen to 10-month highs on escalating tensions between the West and Iran. The United States and Israel have not ruled out a military strike on Iran to halt its nuclear program, which Israel believes is intended to build atomic weapons and Tehran says is for producing energy.
"America knows that if there is a war on Iran, this means that the whole region will be set alight, with no limit to the fires," Hezbollah deputy Sheikh Naim Qassem told Reuters.
Qassem also said the movement's fighters, estimated to number several thousand, were better trained and equipped to retaliate against Israel than in 2006, when the Jewish state fought a month-long war in southern Lebanon.
"Gone are the days when Israel decides to strike, and the people are silent," he said.
"Israel could start a war … but it does not know the scale of the consequences and it is incapable of controlling them."
The Hezbollah deputy said he believed Israel would try to drag a reluctant United States into confrontation with Tehran because it could not inflict sufficient losses on Iran alone.
U.S. officials have said that non-military pressure such as sanctions on Iran should be given time to work, while Israel has hinted it could launch a pre-emptive strike on Tehran.
But he expected Israel might try to overcome U.S. concerns about military action and drag it into conflict with Tehran.
"Israel does not have the capability nor the courage to wage war by itself on Iran, while America has reservations because of the dangers of this war and because of the upcoming (presidential) election," Qassem said.
"WHO WILL WIN?"
"Who will win? The Israeli pressure to drag in America or America's constraint of Israel?"
Hezbollah was set up 30 years ago with the help of Iranian Revolutionary Guards to fight Israeli forces that invaded Lebanon in 1982 and still enjoys financial and military backing from Tehran and Syria.
Qassem also said he expected Bashar al-Assad to remain president of Syria despite 11 months of protest in which the United Nations says more than 7,500 people have been killed.
Qassem spoke to a team of Reuters journalists at an undisclosed location in Beirut's teeming, impoverished Shi'ite southern suburbs. The group was driven in a car with blacked-out windows for some distance, then into an underground car park to access a lift up to a meeting room with covered windows.
The elaborate security precautions, which included removing all watches, communications and recording devices before the journey, were intended to protect the Hezbollah leadership from possible attack. Israel killed a previous Hezbollah leader with a missile strike in 1992.
Dressed in grey clerical robes with a white turban and speaking slowly and deliberately in Arabic, Qassem appeared relaxed and unhurried during the conversation. At times he smiled and was at pains to ensure he had been fully understood.
Asked whether the militant Shi'ite group, which fought a 34-day war with Israel six years ago, would attack Israel in response to any strike on Iran, Qassem said Iran could defend itself but that such an attack would "ignite the entire region."
Hezbollah, he said, had a defensive rather than an offensive position against Israel but "is always preparing itself and it won't stop preparing itself for a single second because of its conviction that Israel is always preparing to attack."
Qassem said Washington believed any conflict with Iran would put its forces and allies in the region at risk, and would deepen the global economic crisis by pushing oil prices higher.
EXPECTATIONS OF WAR
Hezbollah was "in an even better position than we were in 2006," when it fought Israel to a standstill in a conflict that cost 1,200 lives in Lebanon and 159 in Israel, he said.
Despite U.N. resolutions and a U.N. peacekeeping force near Lebanon's southern border with Israel, Hezbollah has since rearmed, although Qassem declined to give any details on the group's arsenal of rockets and other weapons.
"We have learnt from the 2006 experience and increased our training, our resources and our equipment in accordance with our expectations of the next war, if it happens," he said.
Hezbollah backs Assad despite supporting popular uprisings elsewhere in the Arab world.
Qassem praised the "Arab Spring" revolts which overthrew the leaders of Egypt and Tunisia last year, but said that the United States was "trying day and night to hijack those revolutions."
He said the uprisings in Libya and Yemen had started out as popular movements but were pushed off course militarily and politically by the West.
"We hope that popular forces can put an end to foreign exploitation and political exploitation of this movement, he said. "America's criteria in relation to the Arab revolutions are not uniform and have nothing to do with human rights or democracy."
Hezbollah says Syrian leader Assad, who comes from the minority Alawite sect which derives from Shia Islam, has introduced reforms in response to demonstrators' demands including Sunday's referendum on a new constitution.
It believes that the collapse of Assad's rule would lead to the country fragmenting on sectarian lines.
Hezbollah officials also believe there is no credible leadership-in-waiting among the divided Syrian opposition that could control the country, and that Sunni Islamists would impose their agenda after Assad's departure.
Qassem said the upheaval was largely the work of the United States, which had been "inciting unrest in Syria and providing financial and military aid for use in the violence and killing inside Syria."
"…I believe that President Assad will overcome this period and will remain the president of Syria," he said.
Reuters