Syria prevented terrorists from entering via Lebanon, SANA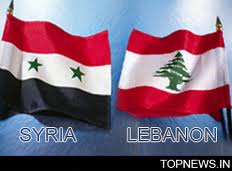 The Syrian National News Agency (SANA) on Tuesday quoted the Syrian authorities as saying that they "prevented an armed terrorist group from entering Syria through the Oyoun al-Shara-Halat crossing in Tall Kalakh along the Lebanese-Syrian border."
According to SANA's report three members of the terrorist group were killed and several others were injured in a clash with Syrian security forces. One law-enforcement officer was wounded and taken to Al-Bassel Hospital in Tartous for treatment," the report added.
Earlier on Monday, Syrian authorities reportedly also prevented an "armed terrorist group" from entering Syria from Jordan, according to SANA.
There is no free press in Syria and for this reason it is extremely difficult to verify the claims made by the Syrian authorities. SANA is the mouthpiece of the Syrian regime
The Syrian government blames the unrest in the country on "armed terrorist groups" and has unleashed military operations against border towns and protest hubs.
The UN says well over 7,500 people have been killed in the crackdown  by the forces loyal to president Bashar al Assad against the Syrian protesters who have been demanding freedom and democracy in their protests  against the Syrian Baath regime since mid-March 2011.