Red Cross delivers aid to Syrian city of Hama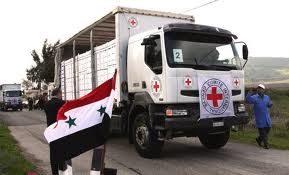 Red Cross teams reached Hama for the first time in more than a month on Monday, delivering food and other goods to the central Syrian city battered by a military crackdown on the anti-government uprising. Activist groups reported the death toll for 11 months of unrest has surpassed 8,000.
Hicham Hassan, an International Committee of the Red Cross spokesman in Geneva, said a joint team of the ICRC and Syrian Arab Red Crescent brought an emergency delivery of food and other items for 12,000 people. He told The Associated Press it was the first time the aid group has been able to enter Hama since Jan. 17.
The city has been hard hit by a government crackdown and villages and towns nearby frequently witness anti-government protests and clashes between troops and military defectors.
In Moscow, Russian Prime Minister Vladimir Putin warned against military intervention in Syria or an attack on its ally Iran in scathing criticism of the West. He said the West had backed the Arab Spring to advance its own interests in the region, and that instead of promoting democracy, the revolts had given rise to religious extremism.
Russia has been one of Damascus' strongest supporters and, along with China, vetoed two U.N. Security Council resolutions backing Arab League plans aimed at ending the conflict and condemning the Syrian regime's crackdown. Moscow has said it will block any U.N. resolution that could pave the way for a replay of what happened in Libya.
In that case, Russia abstained from a vote that cleared the way for months of NATO airstrikes that helped Libyans end Moammar Gadhafi's regime.
Putin's comments came after the U.S. and its European and Arab allies met Friday at a major international conference on the Syrian crisis in Tunisia, trying to forge a unified strategy to push Assad from power. They began planning a civilian peacekeeping mission to deploy after the regime falls.
In Brussels, European foreign ministers increased the pressure Monday on Damascus to stop its crackdown, freezing the assets of several Syrian government officials and imposing sanctions on the country's central bank. They also banned the purchase of gold, precious metals and diamonds from the country, and banned Syrian cargo flights from the European Union.
The EU had previously imposed several rounds of sanctions on Syria, freezing the assets of 100 people and 38 organizations, and trying to cut the country's supply of equipment for its oil and gas sectors.
So far the EU sanctions have had little effect on Syrian President Bashar Assad's regime.
On Monday, Syria announced the results of a referendum on a new constitution held the day before. The Syrian authorities lauded the new charter as a step toward political reform.
The U.S. and its allies have dismissed the vote as a "farce" meant to justify the regime's bloody crackdown on dissent.
Syrian state TV said 89 percent of eligible voters approved the new document, while nine percent rejected it. Less than two percent of ballots were ruled invalid. It put turnout at 57 percent of eligible voters.
Syria's main opposition groups boycotted the vote, and violence elsewhere prevented polling.
The new constitution allows — at least in theory — for the formation of competing political parties and limits the president to two seven-year terms. Such change was unthinkable a year ago. Syria has been ruled by the Baath party since it seized power in a coup in 1963 and the Assad family has ruled since Bashar's father Hafez took over in another coup in 1970.
Results of the referendum were expected later Monday.
Rami Abdul-Rahman, head of the Britain-based Syrian Observatory for Human Rights, told the AP that 8,036 people, including 5,857 civilians have been killed since March through early Monday. He said the rest are either members of the military or army defectors.
Rima Fleihan, a spokeswoman for the Local Coordination Committees activist group, said their count until Saturday was 8,638. She did not immediately have a breakdown by civilians and military.
The Observatory and the LCC have activists around Syria and both have been a major source of information as Assad's government has barred almost all foreign journalists and human rights groups.
The Observatory said at least seven people were killed Monday, four of them in a rebel-held neighborhood in the restive central city of Homs. It said the rebel-held Baba Amr district was subjected to shelling by government forces. The LCC said 30 people were killed Monday.
Hassan, of the ICRC, said efforts to re-enter Baba Amr continue. He added that the humanitarian situation in Baba Amr after days of fierce fighting is increasingly dire.
AP