Lebanon DM hails Iran's 2006 stances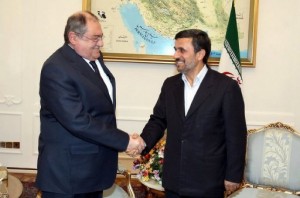 Lebanon Defense Minister Fayez Ghosn hailed on Sunday Iran's stances with regards to the resistance front and the Lebanese army during the 2006 war between Hezbollah and Israel
During talks with Iranian President Mahmoud Ahmadinejad in Tehran on Sunday he stressed that "Lebanon's people, army and resistance are an invincible fortress in the face of Israel," and said that the Lebanese people "will never forget that Iran stood by them in great difficulties.,"
Ghosn also said Iran and Lebanon have always supported one another, expressing hope that cooperation between the two countries would increase.
Ahmadinejad told Ghosn that Lebanon and Iran should work toward unity to confront the west and Israel, Iran's official news agency reported.
Ahmadinejad also told Ghosn :
"Friendships and brotherhood should be improved," and warned that Israel would carry "a massacre against all nations of the region" if it could. He added."Therefore, we should support and stand by each other more than before."
Ghosn who is in Tehran on an official visit met earlier with Iran's Defense Minister Brigadier General Ahmad Vahidi .
Vahidi told Ghosn strengthening Lebanon's army is one of the strategic policies of the Islamic Republic.
"Lebanon must have a strong army to defend its interests in the region," Vahidi said during his meeting with his Lebanese counterpart .
Ghosn's visit comes amid an apparent move by Tehran to strengthen its regional ties, as it faces both pressure from the West over its nuclear program and the possible loss of a key ally, Syria's President Bashar Assad.
Ghosn is a member of the Christian political party Marada, which is allied with Tehran's main partner in Lebanon, the Shiite Hezbollah movement. Marada and Hezbollah are also closely linked to Syria's embattled President Bashar Assad, who faces an uprising against his rule.
Ghosn came under attack last year after he informed the Lebanese cabinet on December 22 that al-Qaeda members had infiltrated the town of Arsal near the borders with Syria
President Bashar al-Assad's regime blamed the December 23 rd twin suicide bombing that killed 44 people on "terrorist organizations," including Al-Qaeda, and quoted Lebanese officials as warning Syria that Al-Qaeda members infiltrated into Syria from the town of Arsal.
In his weekly editorial in the al-Anbaa magazine Progressive Socialist Party leader MP Walid Jumblatt criticized Ghosn for linking Arsal to al Qaeda and wrote last Januray : "The foolishness of those individuals did not take into account the sensitivity of the situation in the region when they said that al-Qaeda had entered the town of Arsal."
"They did not take into consideration the negative repercussions that their statements would have on the town," he added.