Syrian actress blasts Hezbollah chief for supporting Assad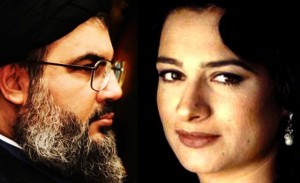 An online war erupted between Syrian actress Mai Skaf and Hezbollah when the first accused the latter of supporting the Syrian regime's atrocities against peaceful protestors.
"I collected 100,000 liras for our Lebanese brethren who fled the July 2006 war to Syria, bought them TV sets and satellite dishes to follow what was happening in their countries, and bought their children shoes and pajamas," wrote Skaf in her page on the social networking website Facebook.
"Now I am telling Hassan Nasrallah that I regret doing that and I want him to either withdraw his thugs from Syria or give me back my money," she concluded.
Shortly thereafter, Hezbollah wrote an online statement on the news website al-Haqeeqa to the effect that the militant group Secretary General Hassan Nasrallah asked his aides to contact the actresses' friends in order to get details about the money she donated and the items she bought to refugees from southern Lebanon during the 2006 Israeli aggression.
"Hezbollah will return the exact amounts and the items to the actress," said a Hezbollah official, who did not reveal his identity, in the online statement. The official did not explain why Hezbollah is avoiding direct contact with Skaf.
According to the statement, Nasrallah asked Sheikh Abdul Karim Obeid head of the group's Social Unit to contact the relevant authorities in Syria and obtain Skaf's address in order to send the money and "a box of children's pajamas and shoes."
Hezbollah members, the official added, were enraged at Skaf's statements and even though they are grateful for her generosity with Lebanese refugees, they would like to remind her that a large portion of that money was from the Revolution's Youth Union, affiliated to the Baath Party, and that she used to get paid by the Syrian Ministry of Information, which funded her performances at the Teatro Theatre in the capital Damascus.
Responses to both statements quickly followed and social networking websites were flooded with supporters of both parties.
Skaf also responded again by making it clear that the Secretary General of Hezbollah misunderstood her statement when he said he will return the money and the things she bought.
"I do not want anything to be returned to me," Skaf told Al Arabiya Tuesday. "This money should be given to Syrian refugees in Lebanon. This is the least Hezbollah can do for our people."
Skaf added that it is impossible for her to ask for money she donated to be given back to her and that she will remain committed to supporting refugees.
"If the same tragedy happens with the Lebanese or the Palestinians, I will be the first one to collect donations for them. This is my duty."
In response to attacks launched against her following her statements against Hezbollah, Skaf said that people should understand what she is going through.
"I am very sad and in pain and nobody should blame people who are suffering like I am," she concluded.
Al Arabiya
$= 50 Syrian liras in 2006