US Republican presidential candidates back arming Syria rebels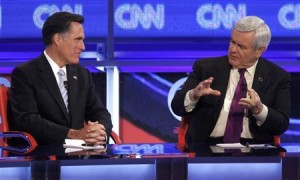 U.S. Republican presidential candidates Mitt Romney and Newt Gingrich on Wednesday lent their support to the idea of arming the Syrian opposition in its fight to topple President Bashar al-Assad.
Speaking at a CNN debate in Mesa, Arizona, Romney said the United States needed to team up with allies to help the rebels.
"We need to work with Saudi Arabia and with Turkey to say, 'You guys provide the kind of weaponry that's needed to help the rebels inside Syria,'" the former Massachusetts governor said.
The Republican seen most likely to face President Barack Obama in November's presidential election, Romney said such support was needed to turn Syria away from Iran at a critical time when Tehran was possibly trying to develop nuclear weapons.
"If we can turn Syria and Lebanon away from Iran, we finally have the capacity to get Iran to pull back," Romney said. He added that the United States should make it clear that military action would be taken if Iran pursued nuclear weapons.
There were signs earlier this week that the Obama administration may be opening the door to eventually arming the Syrian opposition if a political solution to the conflict proves impossible.
But a White House spokesman cautioned that such action could further contribute to the militarization of Syria and lead it down a dangerous path, although the administration did not rule out additional measures.
U.S. opponents of arming the rebels worry that the anti-Assad forces are too divided and say it is not clear who is in charge.
Speaking at the debate, Gingrich said that U.S. allies – which he did not name – were covertly helping destroy the Assad regime, and that there were weapons available in the region to arm the opposition.
"There are plenty of Arab-speaking groups that would be quite happy. There are lots of weapons available in the Middle East," he said, taking a swipe at the Obama administration's policy on Syria.
"This is an administration which, as long as you're America's enemy, you're safe. You know, the only people you've got to worry about is if you're an American ally."
Syrian government forces on Wednesday killed more than 80 people in assaults on villages and an artillery barrage on the restive city of Homs, including two Western journalists.
The United States and its allies hope that a conference in Tunis this week will allow them to begin drawing up a plan for Syria after Russia and China vetoed a Western-backed Arab League peace plan at the U.N. Security Council.
Reuters