Military intervention may be only solution in Syria: SNC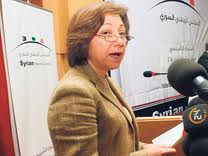 The opposition Syrian National Council (SNC) said on Wednesday it was coming to the view that military intervention was the only solution to the nearly year-old crisis that has killed thousands in Syria.
"We are really close to seeing this military intervention as the only solution. There are two evils, military intervention or protracted civil war," Basma Kodmani, a senior SNC official, told a press conference in Paris.
Kodmani said the SNC was also proposing that Russia, which has vetoed action against the Syrian government in the U.N. Security Council, help persuade Damascus to guarantee safe passage to humanitarian convoys ferrying aid to civilians.
"In order to not militarize, the idea is to ask Russia to exert pressure on the regime not to target humanitarian corridors," she said. Kodmani said the SNC proposed setting up corridors from Lebanon to the besieged city of Homs, from Turkey to Idlib and from Jordan to Deraa.
The SNC will also urge Egypt, at a Friends of Syria meeting due to be held in Tunis on Friday, to restrict access to the Suez Canal to any ships carrying weapons to the Syrian regime.
Russia: No to humanitarian corridors
Russia said Wednesday it opposed establishing humanitarian corridors for reaching civilians in Syria.
A top official said Russia was not backing a call by France to set up actual humanitarian corridors for delivering assistance to flashpoints such as Homs because these would require support from foreign troops.
"Creating these corridors would hardly be effective," Deputy Foreign Minister Gennady Gatilov said.
"This would require special mechanism and forces, and logically speaking, this could lead to the use of force, should things go wrong."
He said the idea backed by Moscow and the ICRC was to ensure "a humanitarian pause — not humanitarian corridors."
The Kremlin separately reported that President Dmitry Medvedev discussed the crisis by a telephone with Saudi King Abdullah bin Abdel Aziz.
"Dmitry Medvedev and King Abdullah exchanged views about the situation in the Middle East in the light of the events in Syria," the Kremlin said without providing further details.
Russia has firmly resisted foreign military intervention in the country and together with China vetoed two UN Security Council resolutions condemning Moscow's traditional ally Assad for the violence.
Gatilov said Russia was growing increasing concerned by reports that the armed opposition groups were receiving military assistance from abroad.
"That the armed opposition is receiving support is a well-established fact," he told reporters.
"The shipments that cross the border from Lebanon…. support the armed opposition. We feel this only feeds and escalates the situation."
Russia has emerged as Syrian President Bashar al-Assad's closest international ally and its support for a truce puts pressure on the regime to open the border to foreign supplies.
But Russia has refused to single out Assad for criticism and on Wednesday again called on both his forces and the armed opposition to end the violence.
Reuters, AFP