Nahhas quits , leaves it up to Aoun to decide, updates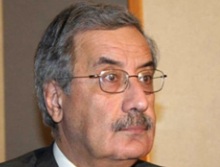 Labor minister Charbel Nahhas has submitted his resignation from the cabinet to Change and Reform bloc leader MP Michel Aoun, Voice of Lebanon radio station reported .
Aoun according to VOL is studying the matter. Nahhas is reportedly leaving the final decision  up to Aoun.
Nahhas was expected to sign on Tuesday the controversial transportation allowance decree, averting a three-week crisis that has been threatening the existence of cabinet.
"Nahhas should sign the decree before the parliamentary session (on Wednesday) that will legalize the transportation allowance," an official source told As Safir newspaper.
Prime Minister Najib Mikati insists that Nahhas should sign the decree linked to a cabinet decision that was approved by the majority of the ministers in January in order to kick start the cabinet sessions. He also stresses that the labor minister's approval of the decree is the only solution to the crisis.
The transportation allowance decree is at the center of a dispute between Mikati and Nahhas, who refuses to sign the decision for allegedly being "illegal."
Al-Mustaqbal newspaper reported that Hezbollah informed Mikati on Sunday that its secretary general Sayyed Hassan Nasrallah expects Nahhas to sign the decree one day before the parliamentary session is held.
Update: President Michel Suleiman told MTV that Nahhas' resignation if for real is a step in the right direction and constitutional
MTV also reported that Mikati found about about Nahhas' resignation from one of his contacts at Change and reform bloc but so far he has not seen the resignation letter