To sign or not to sign, this is the big question in Lebanon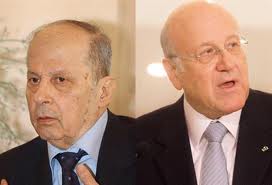 There is a crisis in Lebanon over the issue of transportation allowances decree.
Labor minister Charbel Nahhas is challenging Prime minister Nagib Mikati by refusing to sign the decree.
Nahhas is supported by his boss Free patriotic Movement leader MP Michel Aoun, a close ally of Hezbollah.
The Transportation allowance was agreed upon in Baabda last December between the Economic Committees and the General Workers Union during a cabinet session, in other words the business community and the workers union are happy with this agreement but Nahhas is not and calls it "illegal."
Nahhas wants the parliament to ratify it before he signs it , but Mikati refuses to allow the parliament to get involved in internal cabinet affairs.
The cabinet was shut down by Mikati as a result of this crisis
Mikati maintains his position regarding the suspension of the cabinet sessions if Nahhas doesn't sign the transportation allowance decree .
MP Ibrahim Kanaan, who represents Free patriotic Movement proposed a draft law to be presented at the parliament during Wednesday's session in an attempt to "legalize" the transportation allowance decree , but Mikati refuses to allow the parliament to get involved.
The PM's sources told al-Joumhouria newsppaer that the parliament is an independent authority; however any issue that is linked to the cabinet should be governed by the principle of "separation of powers."
"The two authorities shouldn't meddle in each other's affairs and shouldn't violate the separation of powers," they said.
Minister of the Displaced Alaaeddine Terro who represents MP Walid Jumblatt in the cabinet slammed Nahhas on Monday for not signing the cabinet's decree .
"Nahhas committed a violation by not signing the decree," Terro said calling Nahhas' behavior "rebellion".
President Suleiman was attacked by Aoun for saying that Nahhas should be fired if he continues to refuse to sign the decree. Aoun 's son-in-law Energy minister Gebran Bassil also attacked Suleiman and said yesterday the Free Patriotic Movement represents the Christians and not the president.
According to al-Mustaqbal newspaper, Hezbollah is trying to show Mikati who is the real boss in Lebanon and have informed him on Sunday that its secretary general Sayyed Hassan Nasrallah expects Nahhas to sign the decree one a day before the parliamentary session is held.
One observer commented to Ya Libnan about the cabinet by saying:" This is a cabinet of gangs ..it reminds me of the story of Ali Baba and the forty thieves… they have nothing in common now . The only thing they had in common a year ago was to get rid of March 14 led cabinet of former PM Saad Hariri. They have proven that they are not fit to govern the country , since each is treating the cabinet as his own farm."