Lebanon is a friend of "Bashar", not "Syria"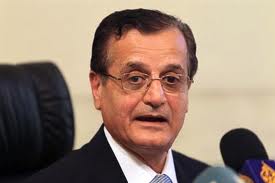 It is official , Foreign Minister Adnan Mansour confirmed on Tuesday that Lebanon will boycott "Friends of Syria" international conference that will be held in Tunis this week, aimed at calling for a political change in Syria.
"In harmony with our decision to disassociate Lebanon from developments in Syria, we will not join the conference in Tunis," Mansour told OTV.
This comes after Prime Minister Najib Mikati said that Lebanon cannot attend the planned "Friends of Syria" conference in Tunisia.
One observer told Ya Libnan: "It appears that Hezbollah, which is a staunch supporter of president Bashar al Assad in his brutal crackdown against the pro-democracy protesters in Syria made the decision for Lebanon"
Also citing Hezbollah's control of the Mikati government, Ahmad Hariri secretary-general of the Future Movement said on Monday : " How can we expect real participation in light of a government controlled … by Hezbollah?" Hariri also asked. "Do we expect the foreign affairs minister, who has become the official mouthpiece of the regime of Bashar Assad, to participate? Of course not," he said.
"If we are keen on Syria's interests then we need to participate," Hariri told the online Elnashra website.
Meanwhile, Progressive Socialist Party leader Walid Jumblatt decried Syrian President Bashar Assad's call for a referendum on a new constitution that would create a multiparty system in the country and urged Syria's allies, Russia and Iran, to help ensure a transfer of power instead of supporting the embattled president.
Jumblatt also reiterated his call for the Syrian Druze not to join the Shabbiha, or armed thugs, fighting anti-regime protesters. "The future is for the free people in Syria, and your natural position is to stand by them," he said.
Last week, Assad, facing the most serious challenge to his 11-year rule from the uprising, ordered a referendum on a draft constitution on Feb. 26 that limits the presidency to two seven-year terms and allows for multiple parties. Syrian opposition groups have rejected the new constitution and urged voters to boycott the vote. They maintained that Assad's departure is the only solution.
Tunisian Foreign Minister Rafik Abdessalem said Monday that Syrian opposition parties would take part in the conference to which EU and Arab League members as well as China, Russia and the United States have been invited. "We believe that on the 24th of this month, we shall send a strong message to the Syrian government," Abdessalem told reporters in Rome. "There has been enough killing. There must be radical political change."
According to an estimate by the Local Coordination Committees of Syria, a network of opposition activists, over 9,000 people have been killed in the 11 months of Syria's uprising.